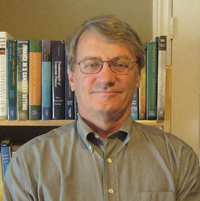 Position / Title:
Lecturer in Economics
Areas of Specialization: Corporate Finance
David Birkett has been teaching Corporate Finance in the Department of Economics since 2004 and previously taught in the Department of Economics at the University of Waterloo from 2000 to 2009. He holds a B.A. (University of Toronto) and M.A. (Carleton University) in Economics and a Diploma in Public Administration (University of Western Ontario). David is a recipient of an Excellence in Teaching Award from the University of Guelph Student Senate.
Prior to 2005, he was Director of Finance at the Regional Municipality of Halton in Oakville Ontario where his responsibilities included current and capital budgeting, debenture issuance, developer financing, fiscal policy analysis and investments ($490 million actively traded bond portfolio). David is also the past Chair of the Municipal Finance Officers Association of Ontario and conducts yearly seminars on municipal finance for its members.