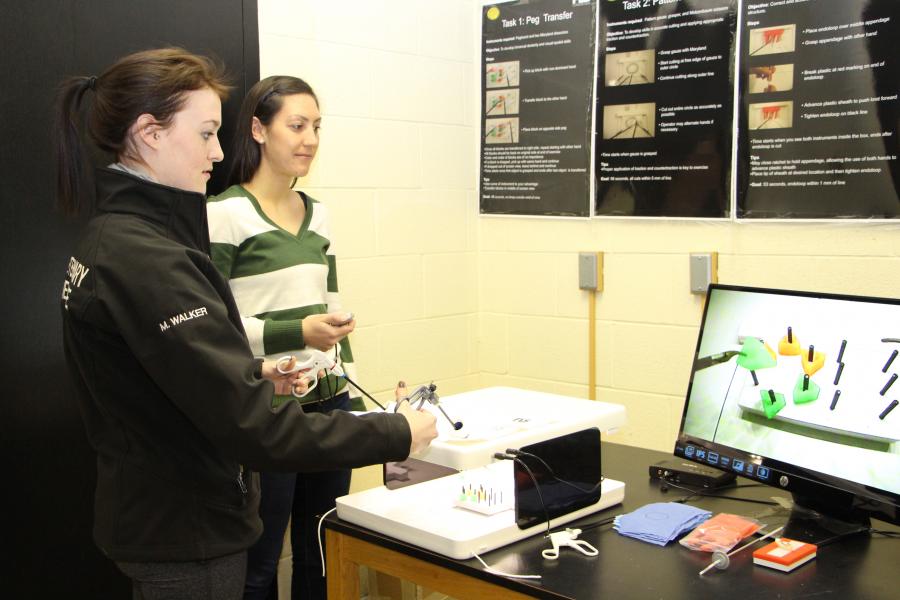 This research area is led by Ameet Singh, a Faculty Small Animal Surgeon at the Ontario Veterinary College (OVC), and explores the use of a simple box training device, which is also used to train surgeons in human medicine, to develop laparoscopic surgical skills in Doctor or Veterinary Medicine Students and Small Animal Surgery Graduate Students/Surgeons-in-training. The training device is housed in the Endoscopic Skills Laboratory in the Department of Clinical Studies. The laboratory is currently directed by Jessica Kilkenny (MS candidate).
Laparoscopic surgery is a type of minimally invasive procedures centered in the abdominal region of the body. The laparoscopic surgeon inserts long instruments and a camera through small, millimeter incisions in the body wall to perform the surgery versus traditional, "open" surgical procedures. Veterinary patients benefit from minimally invasive procedures as they experience less post-operative pain, faster recovery and spend less time in hospital. 
There is a steep learning curve associated with laparoscopic surgery and the skill demands adequate training opportunities for surgeons and residents. The study also helps OVC students involved develop the necessary muscle memory skills needed to perform laparoscopic surgery in a safe and innovative training environment. All hands-on training is currently limited to the operating room. 
Researchers:
Jessica Kilkenny (MSc Student)
Dr. Ameet Singh  BSc, DVM, DVSc, Diplomate ACVS
Advisors:
Dr. Carolyn Kerr, DVM, PhD, DACVA 
Dr. Deep Khosa BSc, BVMS, MACVSc, PhD