AHL LabNote 31-EIA report printing on legal paper (8.5 x 14) vs. letter paper (8.5 x 11)
When trying to print EIA forms from the LIMS database, it is important to switch your printer paper style to "legal" format as opposed to the standard default "letter". The forms are scanned at a larger paper size (8.5x14).  You may experience reduced quality, or sections of the report could be cut off if printing to letter size (8.5x11).
Image 1

After pressing the print button (see Image 1) you will receive a print window allowing you to see the preview of the document.  This gives you the ability to select your printer along with the properties associated with each printer. After selecting a printer that is capable of printing  using legal sized paper (8.5x14) press the properties tab (see Image 2)
Image 2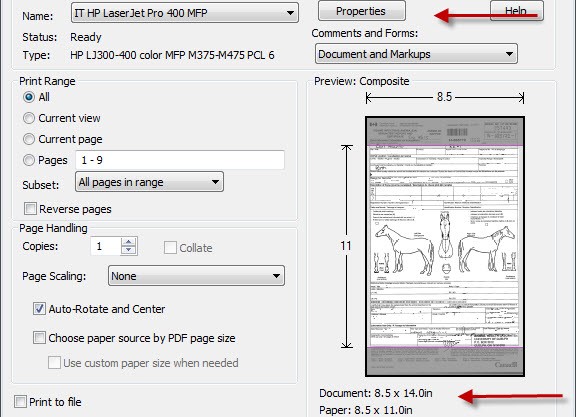 Some printers will allow you to see the document size and the paper size that it is printing. If a smaller paper size is selected, it may cut off portions of the document to fit the page.
Different brands of printers will show slightly different properties windows, but generally all will have a "paper size" option allowing you to change the size of paper you are printing to.
See Image 3. This is taken using a HP style printer with the paper size changed from letter to legal size.
Image 3

After selecting the new paper size and clicking OK, you should be diverted back to the print preview page (see Image 4)( if available) .  You will then see that the new paper size matches the document size and the printer will print the EIA form without alterations.
Image 4

This option will have to be selected every time an EIA form is printed.