Mycobacterial lymphadenitis in market hogs
Josepha DeLay, Jim Fairles, Durda Slavic, Hugh Cai, Amanda Mansz, Margaret Stalker, Tim Blackwell, Andrew Vince
Enlarged mesenteric and mandibular lymph nodes with grossly visible caseous granulomas were identified at slaughter in several market hogs originating from 3 Ontario herds. Histologic evaluation confirmed granulomatous and pyogranulomatous necrotizing lymphadenitis (Fig. 1). Low numbers of acid-fast bacilli compatible with mycobacteria were visible in direct smears or histologic sections from ~ 50% of affected nodes (Fig. 2). Mycobacterium avium (not speciated) was isolated by Public Health Agency Ontario Laboratories from one of the lymph nodes.
Investigation of the source herds confirmed that the herds had fed peat moss as a supplement to nursing or weaned pigs. In young pigs, peat feeding has been associated with improved growth and performance, purportedly due to stabilizing effects on intestinal microflora, micronutrient supplementation (including iron), and adsorption of potentially toxic substances (such as bacterial toxins). Peat is an interesting substance that forms naturally through sedimentation of organic debris in cold, wet, anaerobic environments, which limit decomposition. "Peat" or "peat moss" is composed primarily of decomposing wetland/bog flora, usually including Sphagnum spp. mosses but often many other species of plants, particularly if harvested from natural bogs, and is sold in North America primarily as a horticultural soil supplement. In addition to the predominant organic content, peat also contains inorganic compounds and microorganisms in a heterogeneous mix dependent on the geographic location of the source. Inherent risks in peat exposure are recognized as a result of these natural contaminants. Open, outdoor post-harvest storage of peat provides additional opportunities for contamination. Environmental conditions facilitating peat formation are also favorable for mycobacterial growth. Lymphadenitis in swine due to opportunistic infection with M. avium (predominately M. avium ssp. hominissuis) has been reported as a complication of peat exposure.
Lymphadenitis, including mycobacterial lymphadenitis, can result in partial or complete carcass condemnation at slaughter and associated economic losses for producers. Human infection with M. avium is also possible, and the potential for clinical disease is highest in young or immunocompromised individuals.   AHL
References
Johansen TB, et al. Mycobacterium avium subsp. hominissuis infection in swine associated with peat used for bedding. BioMed Res Intern 2014. doi: 10.1155/2014/189649. Epub 2014 Sep 15.
Ontario Ministry of Agriculture, Food, and Rural Affairs. Peat moss for piglets at weaning (factsheet). 2012.  http://www.omafra.gov.on.ca/english/livestock/swine/facts/info_n_peatmoss.htm
Trckova M, et al. Peat as a feed supplement of animals: a review.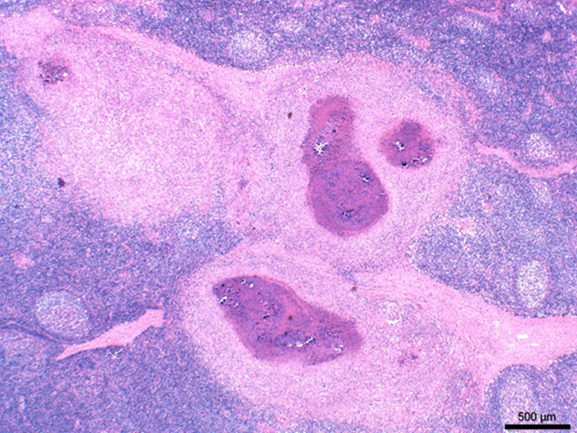 Figure 1. Mandibular lymph node, market hog. Normal node architecture is replaced and effaced by caseous granulomas. H&E stain, 200x.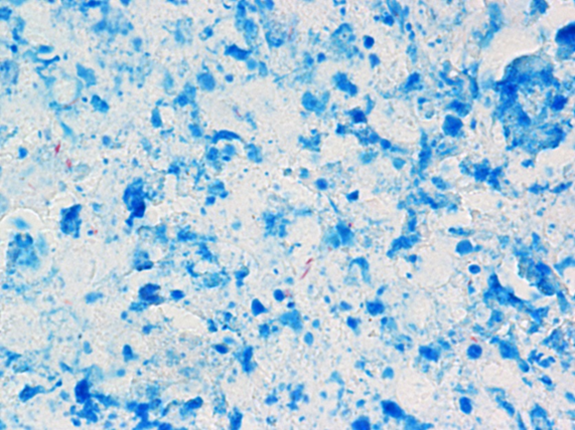 Figure 2. Mandibular lymph node, market hog. A few acid-fast bacilli (circled) among central debris in caseous granuloma. Ziehl-Neelsen acid-fast stain, 1000x.