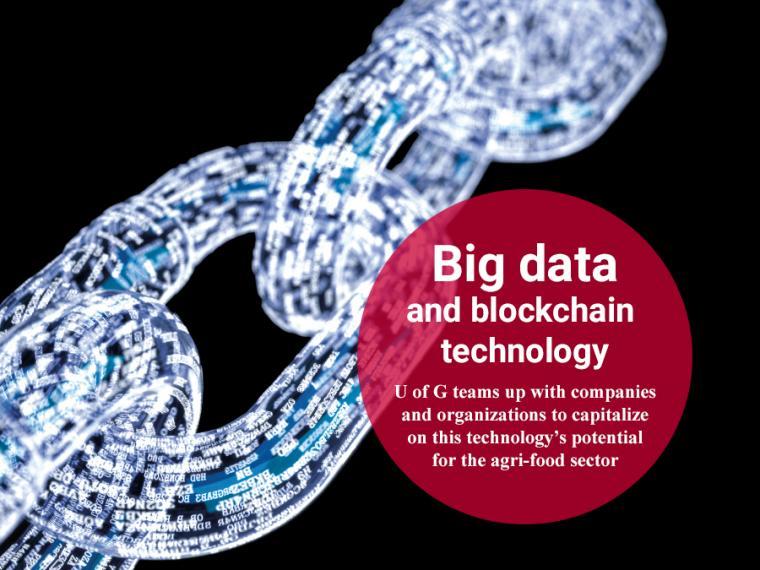 Historically, research has been a long-term investment. Whether the subject was health care, engineering or agri-food sciences, advancements have been mostly incremental. Over the long term, the small but steady gains have brought us to current yields, efficiencies and knowledge that were previously unimaginable.
In the last decade, the research paradigm has shifted. Thanks to a proliferation of "smart" and interconnected digital devices, the volume of research data and the speed at which it can be generated has grown exponentially. Increasingly sophisticated software and deep machine learning have increased the complexity of analyses and accuracy of forecasts based on past, "learned" outcomes.
Blockchain technology's potential application to agri-food systems also opens a new landscape of opportunities. Originally developed for Bitcoin, Blockchain is a kind of ledger that is distributed across many computers, all linked together in the cloud. Each block is encrypted for privacy and protection of information.  Transactions recorded on the ledger are visible to all participants who have access to the chain, and this transparency reduces the opportunity for fraud.
Blockchain is finding new applications across a wide range of economic activities, including agriculture.  For example, the structure could be used to record the details of agri-food products moving from farmer all the way to consumers, with entries made and verified at each step in the production chain. U of G has partnered with IBM Canada and industry groups such as SoyCanada and Grain Farmers of Ontario to look at ways of applying the system for expansion of export markets, where authentication is an important selling tool.
As with the Green Revolution of the 1960s, many view these digital developments as the next revolution in agriculture -- with unprecedented opportunities to improve the world's food systems. But a myriad of issues surround the data itself: ownership, privacy, sharing, storage, compatibility of formats, availability of analytics and many others.
The renewed partnership between the Ontario Ministry of Agriculture, Food and Rural Affairs and the University of Guelph advocates for increased sharing and access to publicly-funded data as one of its fundamentals. This is in line with the broad Ontario government mandate of open access and increased transparency.  Sharing of data encourages third party collaboration and investment in new research, which further leverage the province's investment in the Agreement.
U of G's Food from Thought research project is an example of the application of big data and data sharing, development of new platforms and analytics to a compelling global need:  increasing food production for the world's growing population while protecting environmental ecosystems.
If ever there was a complex challenge in need of our most innovative approaches, this is it. Read more about Food from Thought and U of G's plans for groundbreaking digital developments on page 10 of the Agri-Food Yearbook [1].