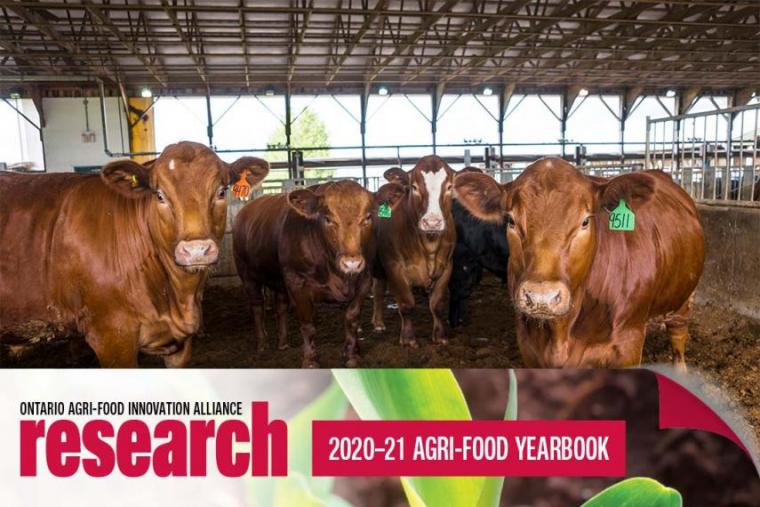 Conventional wisdom suggests that the best way to prevent pneumonia in beef cattle is to boost the animal's immune response — the capacity to recognize and defend against bacteria, viruses and harmful substances — during the transition period when calves are placed together in feedlots.
But the University of Guelph's Dr. Jeff Caswell, professor in the Department of Pathobiology, Dr. Laura Bassel and Dr. Joanne Hewson and other collaborators, along with staff at the Ontario Beef Research Centre, are challenging this view. They've found that dampening cattle's inflammatory responses may be a better way to prevent bacterial pneumonia from taking hold.
"Our findings could potentially change the strategy for how we go about preventing pneumonia in beef cattle by informing the development of methods to reduce inflammation in the respiratory tract as an alternative to antibiotics," says Caswell.
He and his team have carried out experimental trials with beef cattle since 2014 at the Ontario Beef Research Centre located in Elora, Ont. They used 60 auction calves considered to be at high risk for respiratory disease. Half of the animals were introduced to killed bacteria; the other half received a saline placebo.
"We expected the ones who got the killed bacterial solution to be protected from the disease because we thought it might boost their immune response, but they ended up developing more severe disease," says Caswell. "This shows that inflammation in the respiratory tract of healthy calves seems to adversely affect how they deal with bacterial infection, which makes the pneumonia worse."
This finding changed their thinking about how pneumonia develops in feedlot cattle. Previously, the industry assumed that risk factors like stress and viral infection lead to immunosuppression, resulting in turn in bacterial pneumonia. But they now say that instead of — or in addition to — immunosuppression, it may be greater inflammation that leads to pneumonia's harmful effects.
Caswell and his team will now examine the biological processes linking inflammation in the respiratory tract and the onset of pneumonia in healthy beef cattle as well as other factors that make calves more likely to develop inflammation. They'll also examine major environmental risk factors for respiratory disease in dairy calves.
This research study was funded by Beef Farmers of Ontario, the Canadian Cattlemen's Association, the Natural Sciences and Engineering Research Council of Canada, Zoetis, and the Ontario Ministry of Agriculture, Food and Rural Affairs through the Ontario Agri-Food Innovation Alliance. The Ontario Beef Research Centre is owned by the Government of Ontario through its agency, the Agricultural Research Institute of Ontario, and managed by the University of Guelph through the Ontario Agri-Food Innovation Alliance.
This article originally appeared in the 2021 Agri-Food Yearbook edition of  [1]Research magazine. [1]
Written by Karli Longthorne.