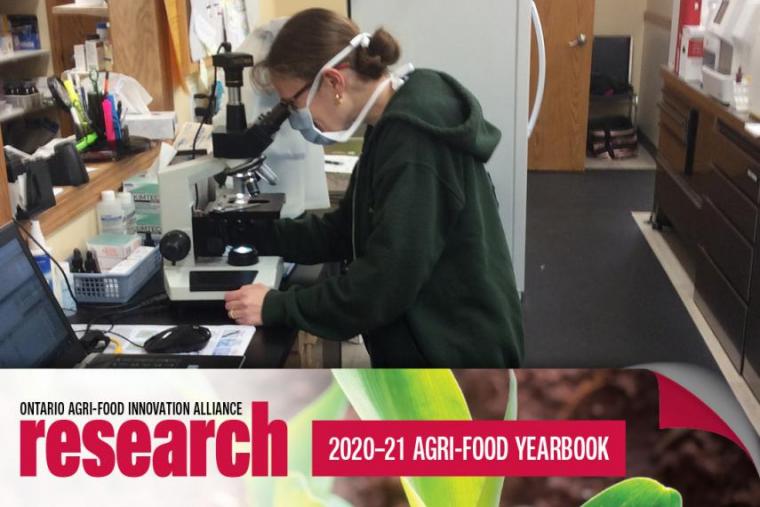 Leaving the city behind to start your career in small-town northern Ontario might seem like a path less travelled. But for Dr. Marialisa Laurella — a 2011 Ontario Veterinary College graduate — the North is exactly where she wanted to be.
She says the decision to move north was driven by the opportunity to hone her skills while tackling a wide range of challenging small- and large-animal cases.
"I knew I wanted to work in a more isolated community where there wasn't a referral clinic nearby," she says. "If I worked in a bigger city, I might never get to do the more complicated surgeries, as they tend to get referred out. But here, I handle the tougher cases myself."
"Here" is the close-knit community of Fort Frances, where Laurella has worked as a front-line veterinarian at the Nor-West Animal Clinic, a mixed animal practice, since graduating. It's the only veterinary practice serving Fort Frances and surrounding area. The clinic wasn't actively hiring when she applied. But her résumé caught the eye of the practice owner, OVC alumnus Dr. Dan Pierroz, whom she calls a kindred spirit.
"We seemed — right off the bat — to have very similar mindsets as to how we wanted to practise and work with animals," says Laurella. "That to me was way more important than being in a big city where there are a lot of amenities. I knew I'd found a practice owner that was both a great boss and mentor."
Pierroz received support to hire Laurella through the Veterinary Capacity Program offered by the Ontario Agri-Food Innovation Alliance that helps fourth-year veterinary students fine-tune their skills through an eight-week placement in a large or mixed animal practice.
Laurella didn't have to wait long to see front-line action. Within the first two weeks, she was invited to scrub in for an extracapsular repair to a dog's torn cranial cruciate ligament. The procedure involves using a special suture material in place of the damaged ligament to help stabilize the dog's knee joint.
It was just a taste of things to come, as Laurella – one of two vets on the Nor-West team at the time — found herself splitting the caseload with Pierroz, while also handling after-hours emergencies.
She says her experiences underline why veterinarians in underserved regions like Fort Frances need to be ready to handle anything that comes through the door — large farm animals, dogs that have suffered bear attacks, injured wildlife and even the odd sick bearded dragon.
"In rural practice, you kind of have to be able to handle it all," says Laurella. "We're definitely generalists, though I personally enjoy doing surgeries, particularly orthopedic work. We've had to become proficient in doing those surgeries so we can offer the kinds of services owners and animals wouldn't have access to otherwise."
For other grads looking to follow her path, she offers this advice: the front-line mixed animal practice life offers up a stiff challenge that isn't for everyone.
"If you're looking for more of a nine-to-five job, it's probably not the practice for you," she says. "But for me, I've been extremely fortunate to find a place and a community where the work is never boring, and where I truly enjoy practising."
What does a typical day on the front line in a mixed animal practice look like for Laurella?
Aside from the regular slate of vaccinations and ear infection treatments, she might spay and neuter pets, perform an emergency late-night surgery on a dog that's eaten a piece of plastic, conduct a post-mortem on a sheep that died unexpectedly, or sedate and treat an agitated horse with a leg laceration.
Today, after more than nine years of practising, Laurella has seen her confidence grow to the point where she is now mentoring another recent veterinary grad from the Western College of Veterinary Medicine.
But she still recalls her first few touch-and-go months on the job handling on-call emergency cases.
"When I was handling the after-hours, on-call cases as a new hire, it was daunting," she says. "It definitely took a few months to not feel anxious when the phone rang. Gradually, after a few calls that go well, you learn not to panic, to trust your instincts and take things case by case."
This article originally appeared in the 2021 Agri-Food Yearbook edition of  [1]Research magazine. [1]
Written by Joey Sabljic.