The Frank Watson Book Prize is awarded in odd-numbered years for the best monograph, edited collection and/or book-length original work on Scottish History published in the previous two years. The prize consists of a cash award, an invitation to present a plenary lecture and permission to advertise success in the competition.
2017 Frank Watson Book Prize Winner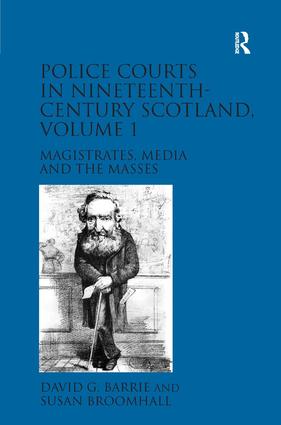 The Centre for Scottish Studies at the University of Guelph is delighted to announce the awarding of the Frank Watson Book Prize for 2017 to Dr David G Barrie and Professor Susan Broomhall, both of the University of Western Australia.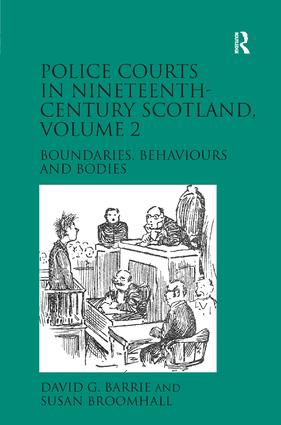 The prize-winning book, the two-volume Police Courts in Nineteenth-Century Scotland (Burlington, VT: Ashgate, 2015), does much more than set out a detailed history of an institution. Its sophisticated and nuanced analysis of an impressively wide-ranging set of sources provides new and important insights into the social and urban history of nineteenth-century Scotland, demonstrating  the vital role that policing playd in the development of the late modern urban environment.  The authors examine not only the working of the police courts, but also how ordinary people experienced them, and how the media portrayed them, demonstrating brilliantly how the Scottish dimension can contribute to criminal justice history more broadly. We congratulate Dr Barrie and Professor Broomhall warmly, and are very pleased that they have undertaken to produce a podcast for our website discussing features of the book and its findings.
Additional Citations:
Highly Commended First Book:
Matthew P. Dziennik, The Fatal Land. War, Empire and the Highland Soldier in British America (New Haven: Yale University Press, 2015).
Through prodigious research and careful reading and integration of source material, including, importantly, Gaelic sources, the author offers a powerful account of how Gaels used military service in British America as a vehicle for economic and cultural regeneration, and how they participated in transforming the Scottish Highlands into a centre and symbol of British imperial endeavour during the second half of the eighteenth century. Revealing the complex negotiation of interests that underpinned the construction of an imperial mandate for the Highlands, Dziennik's fine-grained analysis significantly advances our understanding of the role of the Gaels in Britain's North American empire and of the operation of the British Empire generally.
Past Winners
2015 - Allan Kennedy, Governing Gaeldom: The Scottish Highlands and the Restoration State, 1660-1688 (Northern World, Leiden: Brill, 2014)
"Highly Commended"
David H. Caldwell and Mark A. Hall (eds.), The Lewis Chessmen: New Perspectives (Edinburgh: National Museums Scotland, 2014)
"Highly Commended First Book"
Siobhan Talbott, Conflict, Commerce and Franco-Scottish Relations, 1560-1713 (London and Brookfield, VT: Pickering & Chatto, 2014)
2013 - Marjory Harper, Scotland No More? The Scots who Left Scotland in the 20th Century (Edinburgh: Luath Press, 2012)
2011 - Diarmid A. Finnegan, Natural History Societies and Civic Culture in Victorian Scotland (London: Pickering and Chatto, 2009)
"Highly Commended"
S. Karly Kehoe, Creating a Scottish Church: Catholicism, Gender and Ethnicity in Nineteenth Century Scotland (Manchester: Manchester University Press, 2010)
Mark R. M. Towsey, Reading the Scottish Enlightenment: Books and Their Readers in Provincial Scotland, 1750-1820 (Leiden: Brill Academic Publishing, 2010)
2009 - John J. McGavin, Theatricality and Narrative in Medieval and Early Modern Scotland (Aldershot: Ashgate, 2007)
"Highly Commended"
Roger L. Emerson, Academic Patronage in the Scottish Enlightenment: Glasgow, Edinburgh and St Andrews Universities (Edinburgh: Edinburgh University Press, 2008)
"Best First Book"
David G. Barrie, Police in the Age of Improvement: Police Development and the Civic Tradition in Scotland, 1775-1865 (Uffculme: Willan Publishing, 2008)
2007 - Richard B. Sher, The Enlightenment & the Book: Scottish Authors and Their Publishers in Eighteenth-Century Britain, Ireland, & America (Chicago: University of Chicago Press, 2006).
2005 - David Stevenson, The Hunt for Rob Roy: The Man and the Myths (Edinburgh: J. Donald, 2004).
2003 - Richard Rodger, The Transformation of Edinburgh: Land, Property and Trust in the Nineteenth Century (Cambridge: Cambridge University Press, 2001).
2001 - Keith Brown, Noble Society in Scotland: Wealth, Family, and Culture from the Reformation to the Revolution (Edinburgh: Edinburgh University Press, 2000).
1999 - Callum G. Brown, Up-helly-aa: Custom, Culture and Community in Shetland (Manchester: Manchester University Press, 1998).
1997 - Allan I. Macinnes, Clanship, Commerce, and the House of Stuart, 1603-1788 (East Linton: Tuckwell Press, 1996).
1995 - Carol Eddington, Court and Culture in Renaissance Scotland: Sir David Lindsay of the Mount (Amherst: University of Massachusetts Press, 1994).
1993 - David Allen, Virtue, Learning and the Scottish Enlightenment: Ideas of Scholarship in Early Modern History (Edinburgh: Edinburgh University Press, 1993).
Future Competition
Authors, publishers or other sponsors should submit three copies of books to the Director of the Centre for consideration by 15 February 2017.
Centre for Scottish Studies 
University of Guelph
50 Stone Rd E
Guelph, ON N1G 2W1
Canada
Please contact [1] the Centre with any related inquiries.