Fall Colloquium
Upcoming Colloquium
---
Previous Colloquia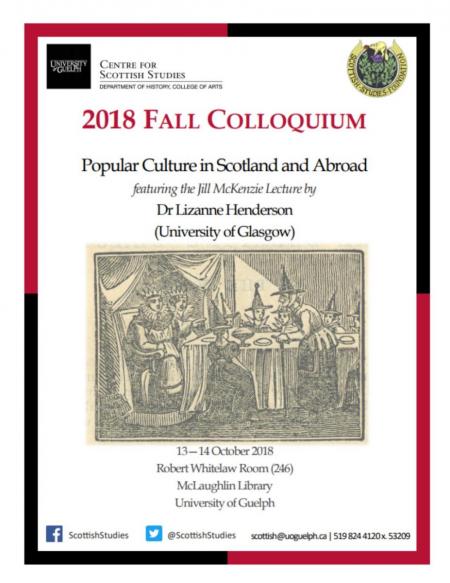 Mariah Hudec (Guelph) "Learned botanists, too wise to overlook trifles, set themselves to study even fairy-eggs": John Francis Campbell's Collection Methodology in Popular Tales of the West Highlands
Robert Fell (Edinburgh) Scotland's Travellers and the Narrative Negotiation of Worldview
Fergus Maxwell (Guelph) Modern Subjectivity and the Travelogue Chapter Argument
Lawrence Abrams (UC Davis) "A Charm of Powerful Trouble": Scottish Folklore and History in Comics and Graphic Novels
Brendan Egan (Queens) "Planned to bring life back into living": Image, Perception, and Identity in East Kilbride New Town
Dr Jack Whytock (Haddington House Trust & North-West)Gaelic Hymnody and the Diaspora Gaels in the New World
Dr Timothy Slonosky (Dawson) Plague, Providence and Polemic: Literary Reactions to the Disasters of the 1540s
Jennifer Oldham (Guelph)Where is the Scottish in Scottish Children's Chapbooks? 
Dr Dave Nelson (ABAC-Bainbridge) Caledonia Cancels Christmas: Scotland's Complicated Relationship with Yule and Hogmanay
Brendan Egan (Guelph) James V's Great Seal at the University of Guelph
Laura Harrison (Edinburgh) 'Big Men Have Big Swords': William Wallace's Longsword as a Symbol of Medieval Masculinity in Scottish Popular Culture
Dr Marian Toledo Candelaria (Wilfred Laurier University Press) When the "Popular" is Really Political: Reconsidering the Origins of the Macbeth Narrative.
Amanda Kentish (Edinburgh) The Big Grey Man of Ben Macdui: Supernatural Tales of Giants from Deeside, Aberdeenshire, Scotland
Jos Collins (Edinburgh) Rethinking Scottish Folk Drama: How the Supernatural World Engages Us with Our Environment
Jill McKenzie Lecture: Dr Lizanne Henderson (Glasgow) Witchcraft and Shamanism in Northern Communities: A View from Scotland
30 September 2017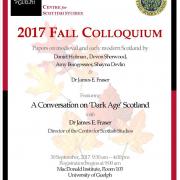 Daniel Holman (Guelph): 'Fighting for freedom after independence in John Barbour's The Bruce'
Devon Sherwood
 (Guelph): 'The Lives of Mary, Queen of Scots: Perspectives'
Amy Beingessner (Guelph): 'Stones: interpreting Scottish identity in the eighteenth century'
Shayna Devlin (Guelph): 'Robert Stewart reconsidered: princes and power in late medieval Scotland'
James E. Fraser (Guelph): 'Partial eclipse: in search of Baithéne, second abbot of Iona'
17 September 2016
Ted Cowan (University of Glasgow), "Caledonian Canada: Building the Foundation" (Jill McKenzie Memorial Lecture)
James Fraser (University of Guelph)
Graeme Morton (University of Dundee) "A Million Times Better: The Scottish Studies Foundation and the Spirit of Enlightenment"
Elizabeth Ewan (University of Guelph) "The Scottish Collection in the Library of the University of Guelph"
Katie McCullough (Simon Fraser University) "Scottish Studies in Canada: Notes from the Pacific Northwest"
David Hunter (Scottish Studies Foundation)