Employer Event: RLB Accounting Social (Space is limited. Apply by Sept. 8)
Location
197 Hanlon Creek Blvd, Unit 103 (RLB's Head Office)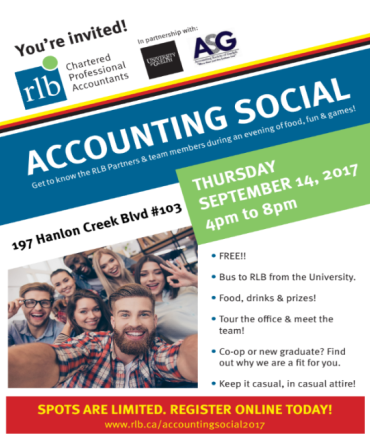 Details
Come out to get to know the RLB Partners & team members during a free evening of food, fun & games!
Students selected to attend have the option to travel by bus from Macdonald Hall to RLB's office. The bus will leave by 4:30pm from the circle driveway in front of Macdonald Hall.
PLEASE NOTE: This is an invite-only event. You are invited to apply online to attend.
Space is limited. Applications are due Friday, September 8th, at midnight.
About the Business Career Development Centre
The Business Career Development Centre offers tailored career assistance to business students at the University of Guelph. It provides access to workshops, events and services including mentoring and networking opportunities, one-on-one career coaching, and assistance building your professional online presence. For more information, visit the Business Career Development Centre web page.
Event Website
Share this page
Find related events by keyword