Honorary Doctorate Recipients
Three times a year (spring, fall and winter) the College of Business and Economics celebrates the graduation of our students.
Convocation is a special time where our graduands and their guests often have the privilege of being addressed by a notable leader, someone who the University of Guelph is conferring with an honorary doctorate in recognition of all they have achieved.
We have been fortunate to have had the opportunity to celebrate our graduating students, while being inspired by the remarkable individuals profiled below.
Tim Bray | Bonnie Brooks | David Card | George Cohon | Simon Cooper | Phil Fontaine
Hon. Alastair Gillespie | J. Charles Grieco | Mick Jackson | Warren Jestin
Stephen Lewis | Sylvia Maracle | Peter Senge | John Sleeman
Anita Stewart | Wendy Swedlove | Paul Uys
2018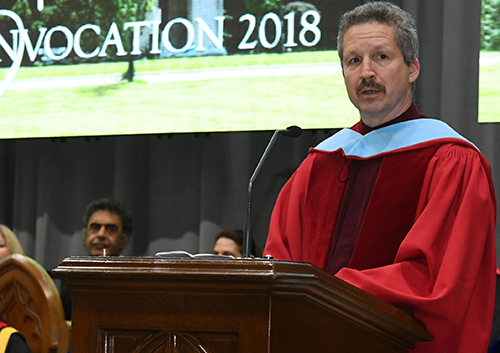 Jim Estill
Jim Estill, Entrepreneur, philanthropist and CEO of Danby Appliances, has invested in over 150 start-up companies and received international attention in 2015 for sponsoring the resettling of 50 Syrian refugee families in Canada. In recognition for his philanthropic efforts, Estill received the Order of Ontario in June 2017. Estill has been a guest speaker at many CBE events, including being a panelist on sustainable business at the PRME North American Conference, hosted by the college.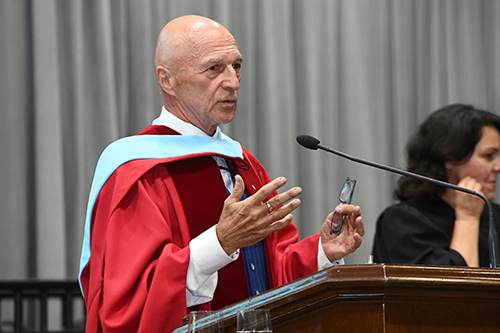 Donald Ziraldo
Donald Ziraldo, Canadian wine icon and co-founder of Inniskillin Wines, has been hailed as one of the most important figures in Canadian wine history and has been credited with starting the first winery in Canada since prohibition. He is a Canadian winemaker, businessman, University of Guelph alumni and a Member of the Order of Canada.
---
2015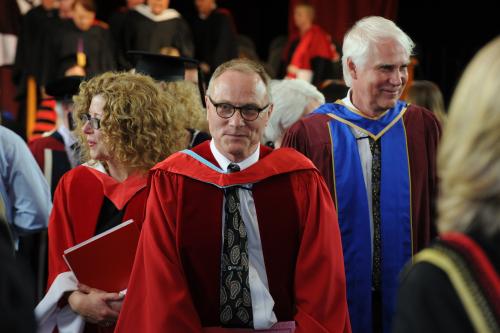 Dr. David Card
David Card, noted labour economist and professor at University of California – Berkeley, has used empirical economics to address important labour issues, including education, minimum wage and immigration. He helped push for researcher access to Statistics Canada data sets, and continues to research and teach graduate students.
---
2014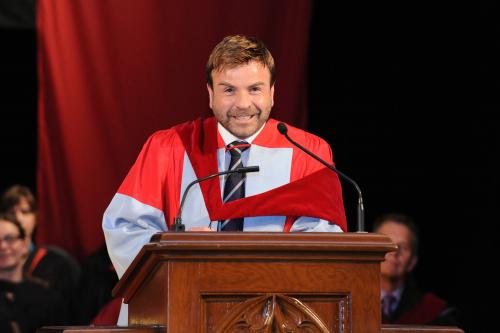 Mick Jackson
As a serial entrepreneur, Mick Jackson is harnessing the power of business to empower people in the world's poorest regions to create a better life for themselves and for their communities. He is the founder and chairman of the WildHearts Group, which uses its profits to fund global microfinance loans that transform the lives of thousands each year. He created the Micro-Tyco Business Challenge that has inspired thousands of people to develop their creative thinking and entrepreneurial skills.
---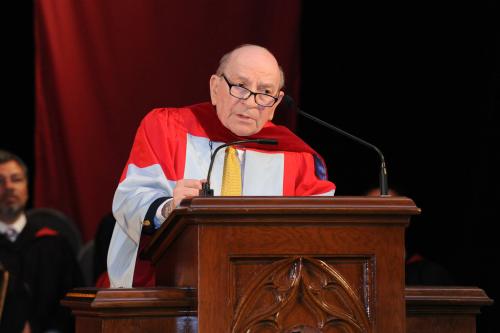 J. Charles Grieco
The Canadian hospitality industry has been significantly impacted by Charles Grieco. His restaurant La Scala set a new standard for fine cuisine and dining in Toronto and over its 35 years of operation was a benchmark for all other restaurants in Canada. He has led the Ontario Hostelry Institute since 1977 and is managing director of the Canadian Hospitality Foundation, helping to raise millions of dollars for student awards and support.
---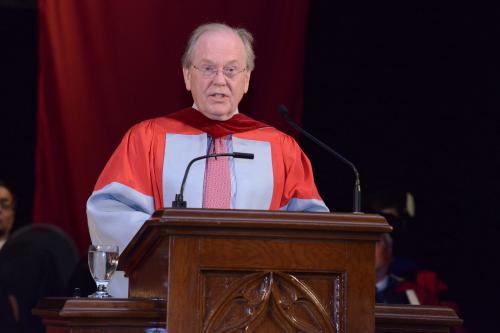 Paul Uys
Paul Uys is a visionary business leader whose distinguished career in the global retail food sector has set a new benchmark for finding sustainable solutions to the challenges of feeding the world. He is a senior executive with over 40 years experience in the food retail industry. He is recognized for leading Loblaw's sustainability portfolio where he spearheaded many programs and worked directly with farmers to expand value-added opportunities. Uys is currently senior director external of the University of Guelph's Food Institute.
---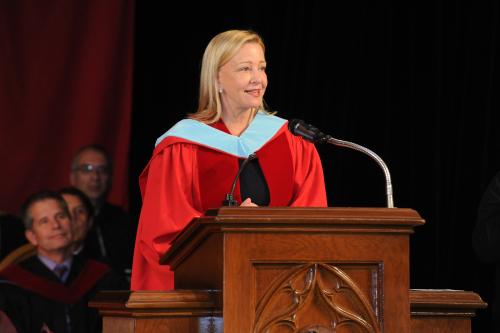 Bonnie Brooks
Vice-chair and former president and CEO of Hudson's Bay Company, Bonnie Brooks is an innovative force in the retail industry in Canada and throughout the world. Her vision, imagination, courage and tenacity helped turn around and grow the retail giant while competitors continued to flounder. Brooks demonstrates how passion, determination and leadership can lead to inspirational success in business and philanthropy.
---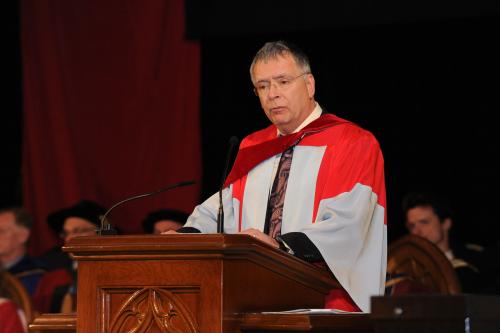 Warren Jestin
Warren Jestin is the chief economist and senior vice-president of Scotiabank. His keen insight on national and international economic and policy issues is widely sought and highly valued. He has served on the C.D. Howe Institute's Monetary Policy Council and has contributed to the economic policy committees of the Canadian and Ontario chambers of commerce and the Toronto Board of Trade.
---
2012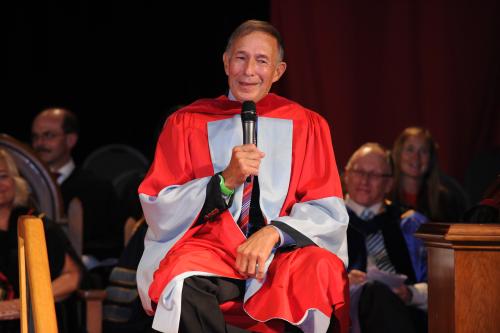 George Cohon
George Cohon is an internationally recognized business leader. In addition to founding McDonald's Restaurants of Canada and Russia and being a founding patron of Ronald McDonald Children's Charities in Canada and Russia, he supports many other charitable organizations and has been the recipient of numerous awards including the Order of Canada, the Order of Ontario, Russia's Order of Friendship and the Israel Prime Minister's Medal.
---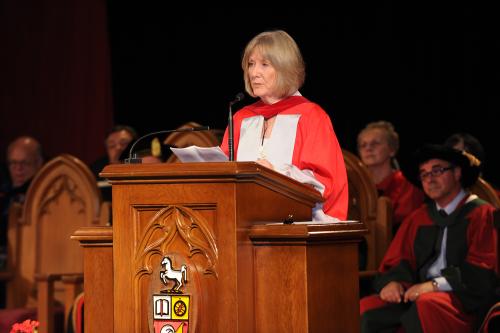 Wendy Swedlove
Wendy Swedlove's leadership of the Canadian tourism sector, through her nearly two decades of work with the Canadian Tourism Human Resource Council (CTHRC), is truly remarkable and has had far reaching impact. Her vision, integrity, ability to build consensus, and, above all, her passion for tourism human resources in Canada have resulted in contributions that are most deserving of our recognition and celebration.
---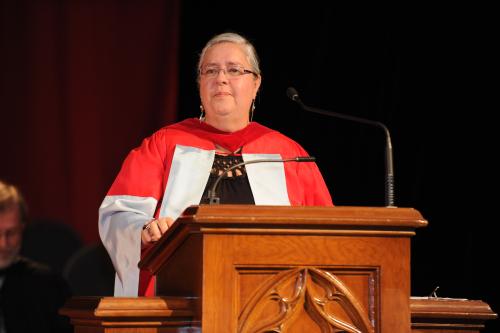 Sylvia Maracle
Sylvia Maracle of the Tyendinaga Mohawk people in eastern Ontario is a longtime leader in the economic, social, political and cultural recovery of Aboriginal peoples in Canada. As the executive director of the Ontario Federation of Indian Friendship Centres, she has overseen the development of friendship centres from their humble beginnings to the multi-purpose, multimillion-dollar agencies they are today.
---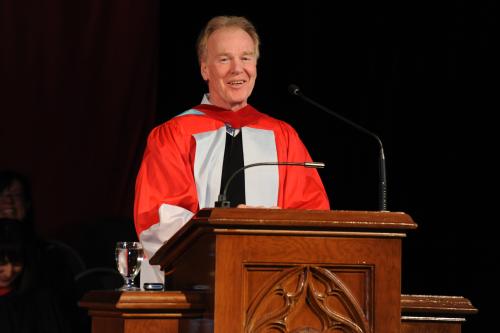 Peter Senge
Dr. Peter Senge is renowned as a business management thought-leader, widely recognized for his transformative insights concerning leadership, organizational behaviour and corporate responsibility. Senge is a senior lecturer at the MIT Sloan School of Management and the founding chair of the Society for Organizational Learning. His work has focused on sustainability and the goal of moving businesses from a philosophy of causing less harm to finding ways of doing more good in the world.
---
2011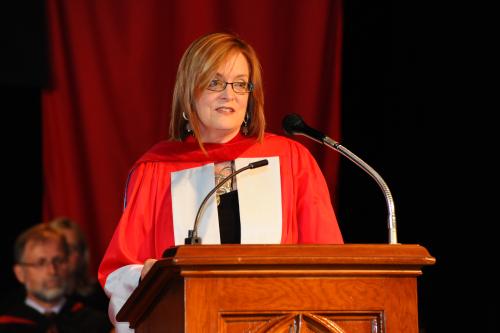 Anita Stewart
Anita Stewart is a Canadian culinary author and food activist and founder of Food Day Canada, the largest national culinary celebration in Canadian history. She was made a Member of the Order of Canada in 2011, and was appointed the first Food Laureate at the University of Guelph in 2012. Stewart is the first Canadian to earn a master of arts in gastronomy and in 2012 was appointed to the Order of Canada.
---
2010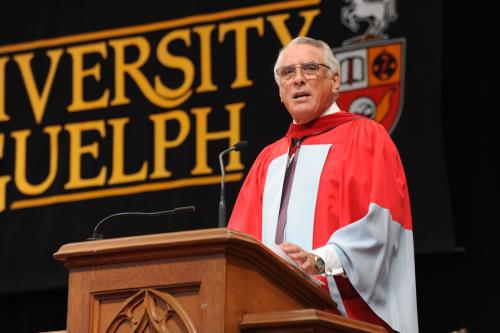 Simon Cooper
Former president of the Ritz-Carlton Hotel Company, Simon Cooper, was a principal force behind the creation of the Canadian Tourism Commission, and the first member of the hospitality industry to be appointed as a director of the Conference Board of Canada. Cooper is also a former chair of the University of Guelph's Board of Governors and served as a member of the Advisory Board of the University's College of Business and Economics.
---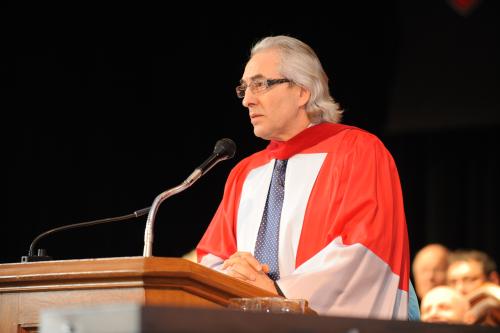 Phil Fontaine
Chief Fontaine has enhanced immeasurably the circumstances and potential of First Nations peoples. Fontaine's advocacy on behalf of Aboriginal peoples has extended beyond the borders of Canada. He was pivotal in bringing together First Nations from across North America to sign the Declaration of Kinship and Cooperation of the Indigenous and First Nations of North America.
---
2009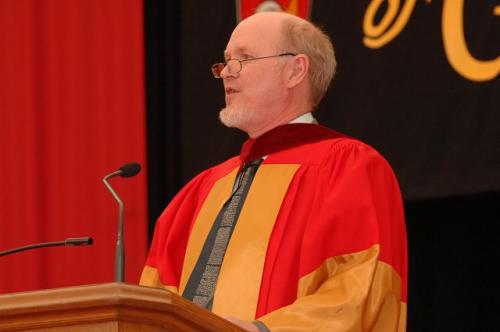 Tim Bray
Throughout his career, Tim Bray's remarkable vision and innovative spirit have made him a leader in the software industry and earned him the respect of his peers. Among his many honours, Java Developer's Journal named him one of the 40 "Top Software People in the World" in 2004. He continues to play a major role in shaping information technology that is changing the way we share knowledge and our own experiences and stories.
---
2008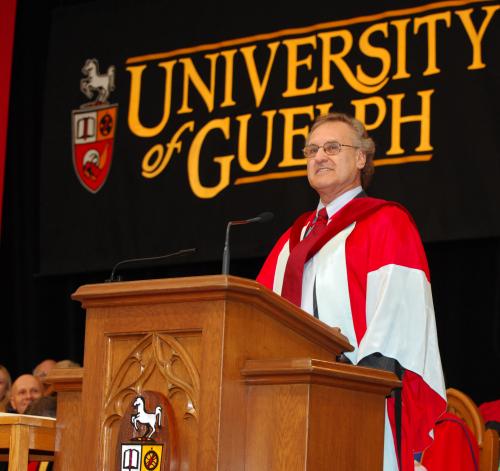 Stephen Lewis
Stephen Lewis served with the United Nations for more than two decades as the Special Envoy to UN Secretary-General Kofi Annan, helping to bring global attention to the AIDS crisis in Africa. He is currently the co-director of AIDS-Free World and founder and head of the Stephen Lewis Foundation, a charitable organization aimed at helping people affected by HIV/AIDS in Africa.
---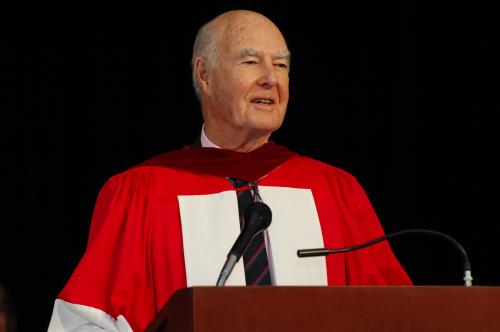 Hon. Alastair Gillespie
The Hon. Alastair Gillespie has held various ministerial positions including industry, trade and commerce; energy, mines and resources; state for science and technology; and parliamentary secretary to the president of the Treasury Board. An Officer of the Order of Canada, Gillespie is a longtime governor of the Scottish Studies Foundation.
---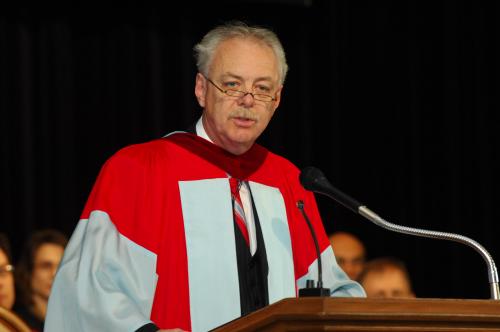 John Sleeman
Credited for reviving one of Guelph's original businesses, John Sleeman has been recognized nationally for his outstanding business acumen and practices. He is the recipient of numerous business awards and been named one of the "Top 100 Entrepreneurs" multiple times.