High School Business Pentathlon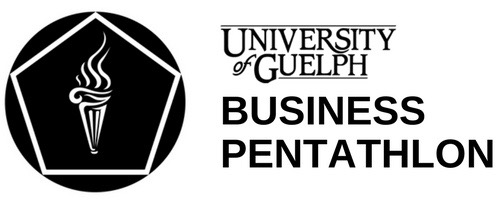 Sponsored by:

Want to try something new and experience business at U of G?
---
The University of Guelph's Business Pentathlon is a unique challenge designed specifically for Ontario high school students. You will compete in 5 fun and challenging business focused events, testing your business knowledge, communication and leadership skills.
The Pentathlon is run by a passionate group of senior level U of G business students, who want you to experience life at U of G.

Compete in 5 fun and challenging business events:
Gryphon's Den: Put your creativity and innovation skills to the test in this entrepreneurial challenge! You will be provided materials and tools to create your own product for the consumer market.
Triple Bottom Line: The University of Guelph places a large emphasis on corporate social responsibility and sustainability across its academics and research. In this event, you will work with your teammates to dissect a case on sustainable efforts taken by modern businesses, and will be instructed to develop an exciting and sustainable solution to a business problem.
BizBuzz: You and your team will go head-to-head answering a variety of fun and challenging trivia questions. With topics ranging from industry trends to student life and everything in between, you will have the opportunity to showcase your business knowledge with this fun and interactive competition!
Business Bonanza: This multi-stage challenge will put your teamwork and communication skills to the ultimate test! Throughout the activity, you will be faced with challenges that effect various business disciplines and industries.
Business 101: From start to finish, you will be tested on various job-related activities. Dressing to impress, interviewing techniques, and networking capabilities will all be covered in this fast-paced event.
Event Details
---
When: May 10, 2018
Where: University of Guelph
Grades: This event is exclusively for students in grades 9 to 12.
Cost: $10 per student
Registration
---
Register your school for the University of Guelph's Business Pentathlon
Note: we are initially limiting the numbers of teams per school to one junior and senior level team. Upon registering, you will be contacted by one of our team members for payment.
Questions?
---
Contact professor Kathleen Rodenburg (krodenbu@uoguelph.ca).
---