Award Recognition 2020

Land Acknowledgment
We acknowledge that the University of Guelph resides on the ancestral lands of the Attawandaron people and the treaty lands and territory of the Mississaugas of the Credit. We recognize the significance of the Dish With One Spoon Covenant to this land and that today, this gathering place is home to many First Nations, Inuit and Métis peoples. Through these words, we offer our respect to our Anishinaabe, Haudenosaunee and Métis neighbours as we strive to strengthen our relationships with them and we're reminded of our connection and responsibility to this land where we learn and work.
Welcome from the College Leadership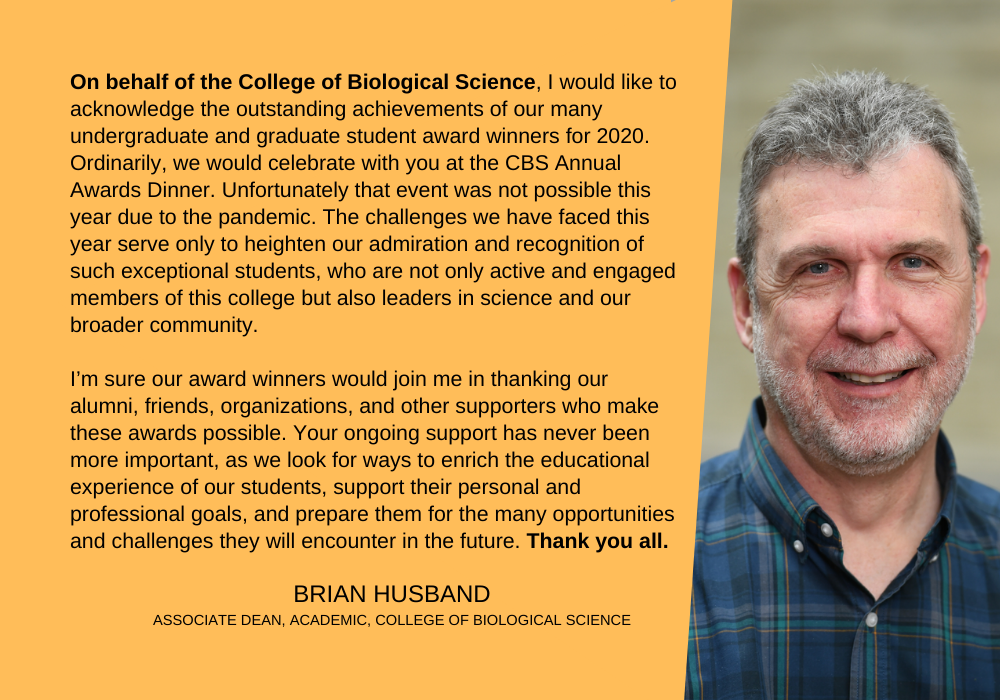 Congratulations to Our Students
The College of Biological Science congratulates our 2020 undergraduate and graduate award winners on their academic achievements! Although celebrations look quite different this year, we are so proud of the excellence of our students and aim to celebrate these achievements with you.
We also thank the generosity of our donors for making these awards possible and want to share some of their stories with you.
2020 Award winners

Alice Wang
Amelia Doerksen
Andie Siemens
Aoife Pucchio
Breanna Redford
Christopher MacLeod
Denika Hope
Dheyaa Al-Najafi
Ghaid Asfour
Gretta Olivares
Hamza Saqib Rashid
Hayden Hartwick
Helen Chen
Jacquelyn Ogata-Bean
Jagdesh Birdi
Jessica Linton
Joshua Summers
Justin Ovadia
Lana Katz
Laryssa Laurignano
Megan Vaz
Melanie Costa
Michael Prudencio-Brunello
Rianna Scott
Sana Gavarikar
Sarah Ferrone
Sarah Vangalen
Stewart McLellan
Thomas Lack
Tyler Taubmann
William Ibbott
Zhi Tao Fang

Avery Robinson, Roche Molecular Biochemical Award of Excellence
Brandon Graham, Hagen Graduate Scholarship
Daniel Saurette, Arthur Richmond Memorial Scholarships
Elisa Lau, Middleton Graduate Teaching Assistant Prize
Jason Moggridge, Master of Bioinformatics Entrance Scholarship
Katarina Doma, CFUW Scholarship for Women in Grad Studies
Kathleen Nolan, Morwick Scholarships in Aquatic Biology
Liam Doyle, Dr. Donald Robert Phillips Molecular and Cellular Biology Scholarship
Mark Minnow, Dr. Donald Robert Phillips Molecular and Cellular Biology Scholarship
Michael Yushishen, Morwick Scholarships in Aquatic Biology
Michelle Thompson, Arthur Richmond Memorial Scholarships
Mohsen Hesami, Arthur Richmond Memorial Scholarships
Rachel (Karson) Theriault, Pharmacia Molecular and Cellular Biology Graduate Award
Sage Handler, Arthur Richmond Memorial Scholarships
Susan Procopio, Morwick Scholarships in Aquatic Biology
Uchenna Uju, Master of Bioinformatics Entrance Scholarship

Aidan Brushett, CBS Student Council Extracurricular Achievement Scholarship
Alexander Botschner, L. Norman Gibbins Memorial Fund
Alexis Pereira, Bryant Family Research Prize Scholarship
Amber Ziebarth, Dr. David Porter Memorial Prize in Physiology
Andrew Kokavec, Dr. Peter Eyre Pharmacology and Toxicology Prize
Anna Schaefer, Keates (Dr. R.A.B.) Biochemistry Scholarship
Anna Schaefer, Society of Chemical Industry Prize in Biochemistry
Anna Tran, Kenneth James Berg Memorial Scholarship
Anthony Nguyen, CBS Student Council Academic Achievement Scholarship
Avery Hinks, Athletic Club Scholarship for Human Kinetics
Avery Hinks, Chair's Prize in Human Health and Nutritional Sciences
Breanna Redford, Natural Resource Solutions Scholarship in Laboratory & Field Work in Ecology
Caitlin Menzies, Natural Resource Solutions Prize in Field Ecology
Caleb Leary, Boyd (W.H.) Scholarship
Carmen Salayka, Shutt Memorial Award
Catherine Peckham, Lynn Medal in Zoology
Charlotte Jones-Whitehead, Hagen Undergraduate Scholarship
Chuyun Chen, Michael J. Emes Scholarship
Connor Gianetto-Hill, Gibco/BRL Microbiology Research Excellence Prize
Daniel Guevara-Mann, Ronald Ko Scholarship
Danielle Gartshore, Catherine & Brian Berg Memorial Bursary
Denika Hope, Dr. and Mrs. Benjamin Lu Scholarship
Desiree Francis, Robert Orr Lawson Microbiology Entrance Scholarship
Diego Steed, Dr. Erika Gaertner Scholarship in Botany
Emilie Nicholl, Fred Ramprashad Scholarship
Emily Fowler, Bruce Sells Medal of Academic Excellence
Hamza Saqib, Lionel Bradley Pett Scholarship
Helen Chen, Lionel Bradley Pett Scholarship
Ian Murphy, Dr. Erika Gaertner Scholarship in Botany
Ingrid Jones, Isabella Anderson Conway Scholarship
Isaiah Burton, Johnson & Johnson Diversity and Inclusion Scholarship in Science
Isobel Barlow-Busch, Analytical Biochemistry Scholarships
Isobel Barlow-Busch, Honours Biochemistry Scholarship
Jacqueline Maw, Bruce Holub Prize
Jake Brill, Stephanie Betts Memorial Scholarship
James Goetz, Dr. R.M.W. Stevenson Microbiology Scholarship
James Goetz, Pharmacia & Upjohn Medal in Microbiology
Jasmin Jordan, Robert Orr Lawson Third Year Microbiology In course Scholarship
Jeff Wang Li, Jessica Marie Hamather Memorial Scholarship
Jeneka Navaranjan, Gary Partlow Prize for Leadership & Academic Excellence
Ji Hong Koo, Hagen Undergraduate Scholarship
Joyce Ang, CBSAA Student Scholarship
Julianah Oguntala, CBS OTSS Scholarship
Justin Yaniv, CBS OTSS Scholarship
Karly Masse, Peter Mann Award for Embryology
Khadija Saiyeda, Microbiology Entrance Bursary (Estate of Robert Orr)
Kiana Gibson, Jack K. Barclay Physiology Scholarship
Kyra Sykes, Bryant Family Research Prize Scholarship
Lauren Philippi, Canadian Society for Exercise Physiology (HHNS Internal Award)
Lauren Stam, Pari Basrur Research Prize
Linda Nong, Tony Anthony Prize
Lisa Lavalle, Alex Peepre Memorial Scholarship
Madison McArthur, Dr. Ken Fisher Prize for Histology and Embryology
Maria Dolan, Dr. Erika Gaertner Scholarship in Botany
Mazen Moustafa, Honours Biochemistry Scholarship
Megan Wyatt, John T Powell Scholarship
N.D. Chau Tran, Chemical Institute of Canada Silver Medal in Biochemistry
N.D. Chau Tran, Frances Sharom Biochemistry Scholarship
Nicholas Paroshy, Monroe Landon Memorial Scholarship
Nicole Gauvreau, Excellence in Marine & Freshwater Biology Scholarship
Nicole Leblanc, CBS Gold Medalist Award
Nicole Leblanc, Hagen Undergraduate Scholarship
Noah Ghomeshi, Frederick Hutt Entrance Scholarship
Oliver Bullingham, Keith Ronald Undergrad Scholarship
Olivia Cotnam, Gaskin Medal in Marine & Freshwater Biology
Olivia Wallace, Robert Orr Lawson Third Year Microbiology In course Scholarship
Philip Lemaitre, Linda S. Allen Memorial Graduation Prize
Sabrina Watson, Hugh D. Branion Memorial Scholarship
Samantha Bolger, Pari Basrur Research Prize
Sana Gavarikor, Tony Anthony Prize
Sandra Jaskowiak, Farzom Rad Memorial Scholarship
Sarah Trilesky, Analytical Biochemistry Scholarships
Sebastian Karpinski, Lionel Bradley Pett Scholarship
Shaima Alam, Kenneth F. Gregory Scholarship (Dr. and Mrs.)
Sibley Duckert, Gordon McNally Memorial Award
Simon Jeeves, Kenneth F. Gregory Scholarship (Dr. and Mrs.)
Skyii Kempers, Bernice and Bruce Sells Leadership Scholarship
Sofia Mendoza, Precambrian Aquatic Prize
Stephanie Fontyn, Hagen Undergraduate Scholarship
Taylor Morrison, Brian L. Walker Memorial Scholarship
Taylor Morrison, Chair's Prize in Human Health and Nutritional Sciences
Tristan Derry, Chair's Prize in Human Health and Nutritional Sciences
Vivian Huynh, Janet M. Wood Scholarship
Vivien Truong, Hung-So Chow Yuen Leadership Scholarship
William Van Blyderveen, Bryant Family Thesis Research Prize Scholarship

A message from our donors