Black History Month Keynote Address with Minna Salami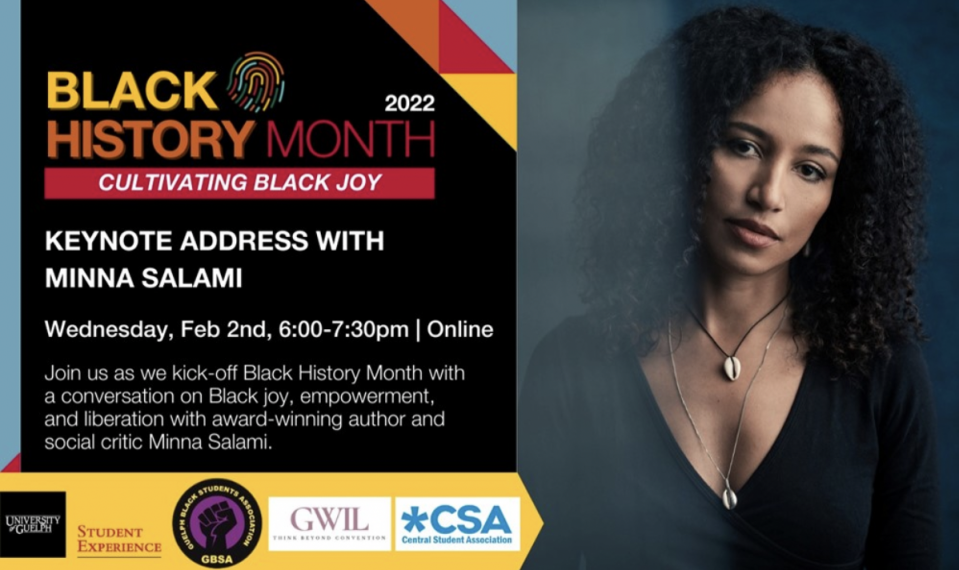 Details
Online Location Instructions
Please RSVP for this event by February 2nd at noon. The meeting link will be emailed to you prior to the start of the event.
Description
Join us as we kick-off Black History Month with a conversation on Black joy, empowerment, and liberation with award-winning author and social critic Minna Salami.
Session Title: The Note is Not the Song - Ideas vs Realities of Black Joy
Why is joy an urgent topic for Black people and how does joy relate to Black liberation? Can joy and anger exist together? What are the obstacles in the way of joy? What does joy say about the individual and belonging in society? These are the questions that my talk will consider evoking an empowered and motivational image of Black possibility and freedom.
Who can attend? 
This event is open to all students, staff, and faculty in the U of G Community.
How can I register? 
Please RSVP by February 2nd at noon. The meeting link will be emailed to you prior to the start of the event.
Note: you must register with your @uoguelph.ca email address to gain access to the event. If you do not yet have a Zoom account connected to this email address, you can create one for free at zoom.us.
This event is part of the University of Guelph's Black History Month 2022 Programming hosted by the Cultural Diversity Office and Guelph Black Students' Association. If you have questions about this or any of our other programs for the month, please contact us at cultural.diversity@uoguelph.ca.
About the Speaker 
Multiple award-winning blogger and founder of MsAfropolitan, Minna Salami is a Nigerian, Finnish and Swedish writer, feminist theorist, researcher and the author of the internationally-acclaimed book Sensuous Knowledge: A Black Feminist Approach for Everyone published in March 2020 (Harper Collins). Translated into multiple languages, Sensuous Knowledge has been called "intellectual soul food" (Bernardine Evaristo), "vital" (Chris Abani) and "metaphysical journey into the genius the West hasn't given language to" (Johny Pitts). Minna has written for the Guardian, Al Jazeera, World Literature Today and is a columnist for Esperanto Magazine. She has presented talks at the UN, EU, The Oxford Union, The Cambridge Union, Yale University and The Singularity University at NASA. She sits on the advisory board of the African Feminist Initiative at Pennsylvania State University and the editorial board of the Interdisciplinary Journal for the Study of the Sahel.
You can find Minna on socials at @minnasalami_ (Instagram) and @msafropolitan (Facebook/Twitter).