Backup Your Office 365 OneNote Files
For instructions on how to install Microsoft Office for Mac or PC, see our training resource for getting started with Office 365.
The CCS Help Centre will provide support for the installation and configuration of Microsoft Outlook as the only recommended desktop email client. For instructions on desktop email client configuration and support, see our resource guide.
---
Manually back up your notebooks
1. Open OneNote Desktop App.
2. Choose File > Options.
3. In the OneNote Options dialog box, choose Save & Backup.
4. On the right, under Save, choose Back Up All Notebooks Now.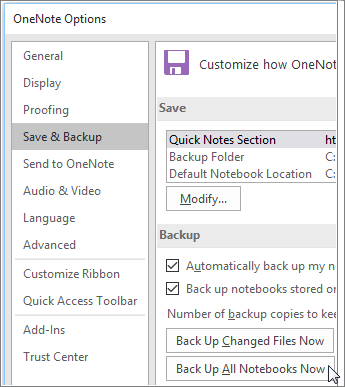 5. When you see the notice that the backup is successfully completed, click OK.
Forgot to backup your OneNote files saved in your old Office 365 account? Contact the CCS Help Centre (519-824-4120 x58888 or 58888help@uoguelph.ca).