InfoSec Blog - New Cyber Security Awareness Training for Staff and Faculty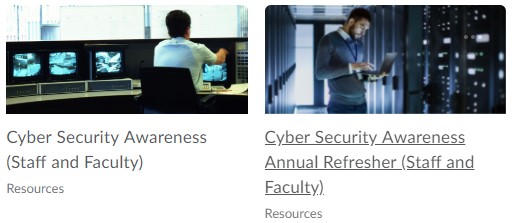 October 1, 2018
The Information Security team is pleased to announce that we have launched a new Cyber Security Awareness training course available to all full-time staff and faculty on CourseLink.
Provided by the highly regarded SANS Institute, this new and improved training is part of our ongoing effort to strengthen the University's security posture by improving our overall security awareness. All staff and faculty are strongly encouraged to take the full training course now, and then review the condensed annual refresher material on an annual basis. 
The course is made up of 21 modules that cover a wide variety of security topics including social engineering, phishing, mobile devices, working remotely, and privacy. Each module includes a short video (3-5 minutes) and a quiz at the end to test your understanding. The system will save your progress through the modules, so it can be done at your leisure. Once you have completed all modules and receive a passing grade on all of the quizzes, you will receive a certificate of completion.
If you have experience issues with the course or have questions about the new training, please contact the InfoSec team directly (infosec@uoguelph.ca). 
Written by: Stephen Willem (Manager, Information Security)