Accessories
Phone Accessory List
This is a sampling of headsets that are compatible with the campus phones and can be ordered through Staples. Prices shown below are approximate.
Please search the Plantronics website for additional headset styles. Select Desk Phone,  Vendor Cisco, Model 7940/7960/7942G/7962G.
Headset
Encore Noise-Canceling (dual earpiece)

Price: $247.00
Product Number: PLNH101N
Note: Headset requires a Quick Disconnect Adaptor
SupraPlus Noise-Canceling (single earpiece)

Price: $171.00
Product Number: PLNH251N
Note: Headset requires a Quick Disconnect Adaptor
Mirage Noise-Canceling

Price: $190.00
Product Number: PLNH41N
Note: Headset requires a Quick Disconnect Adaptor
Quick Disconnect Adaptor

Price: $21.85
Product Number: PN-PLN2671601
This Headset adaptor is required for every headset. A headset adaptor connects the headset to the phone providing users the ability to disconnect quickly. This cord also provides users with a quick disconnect lock.
Wireless Headset
Plantronics Cordless Headset System CS10

Price: $513.00
Product Number: PLNCS55
Plantronics Cordless Headset System CS10 combines the 900 MHz cordless CA10 amplifier and the convertible noise-canceling headset, monaural (single earpiece over the head design or over the ear single earpiece design ) to deliver hands-free mobility with range of up to 150 feet from the base unit. Connects to single or multi-line corded telephones.
Headset Handset Lifter
Plantronics HL10 - Handset Lifter

Product Number: PLNHL10
Price: $123.50
This lifter fits on your phone, letting you answer calls with the touch of a button. It conveniently and automatically takes your handset off hook. This works in conjunction with the wireless headset to allow full call receiving and placing functionality.
Amplifier
Vista M22 Audio Processor with Clearline audio

Price: $219.99
Product Number: PLNM22
Shoulder Rests
Short Shoulder Rest
Price: $11.99
Product Number: SOF-301
Long Shoulder Rest
Price: $11.50
Product Number: 71998-01
Handset Curly Cord Extra Long
25 Foot Telephone Handset Coiled Cord Black
Price: $2.59
Product Number: 75189-00
External Ringers

Price: contact the Macdesk on-line request application.
Product Number: N/A
Loud bells are useful in areas where there is significant noise to prevent you from hearing the ringer of a regular phone. Loud bells can also alert you to a call when you are routinely away from your phone and in an area without access to phones, e.g. parking lot.
Note: A loud bell requires an analog line.
Headsets
Each phone model has a dedicated headset port, this eliminates the need for a separate amplifier when using a headset. The handset remains in its cradle making the headset simpler to use. Both the 7940 and 7960 models have a convenient volume control button that provides for easy decibel-level adjustments for the speakerphone, handset, headset, and ringer. A headset adaptor is required for each headset to allow connectivity to the phone.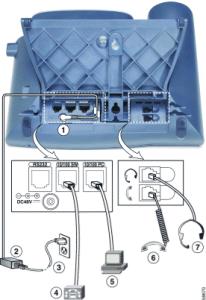 Wireless Headsets
Wireless headsets are compatible with the 7940 and 7960 phone models. A wireless headset does not use the headset port, but rather a direct connection to the phone's handset. Please refer to the documentation provided with the unit or call extension 58888 for assistance. When ordering a wireless headset a separate adaptor is not required. This adaptor is included with the unit .
More than ten headsets are not recommended in a common area. Some office areas may not be conducive to wireless headset use as the physical building environment may reduce the signaling quality.
Amplifiers
The new phones have a built-in amplifier. However, in special cases where amplifiers are warranted, users are to contact the MACdesk on-line request application before ordering this type of product.
Handset Shoulder Rest
It is not recommended to purchase shoulder rests for the new phones due to ergonomic reasons such as, awkward posturing of the head, neck and shoulders. An alternative to using a shoulder rest would be a speakerphone or wireless headset. The standard new phone includes a premium speakerphone allowing users to communicate in a 2-way conversation. Another option is to use a wireless headset which avoids awkward and prolonged static postures and offers more flexibility to move around.
In situations where a handset shoulder rest is required, it should be attached directly to the handset with the use of double sided tape. This tape is included with your purchase of a handset shoulder rest.