Calendar
| | |
| --- | --- |
| | |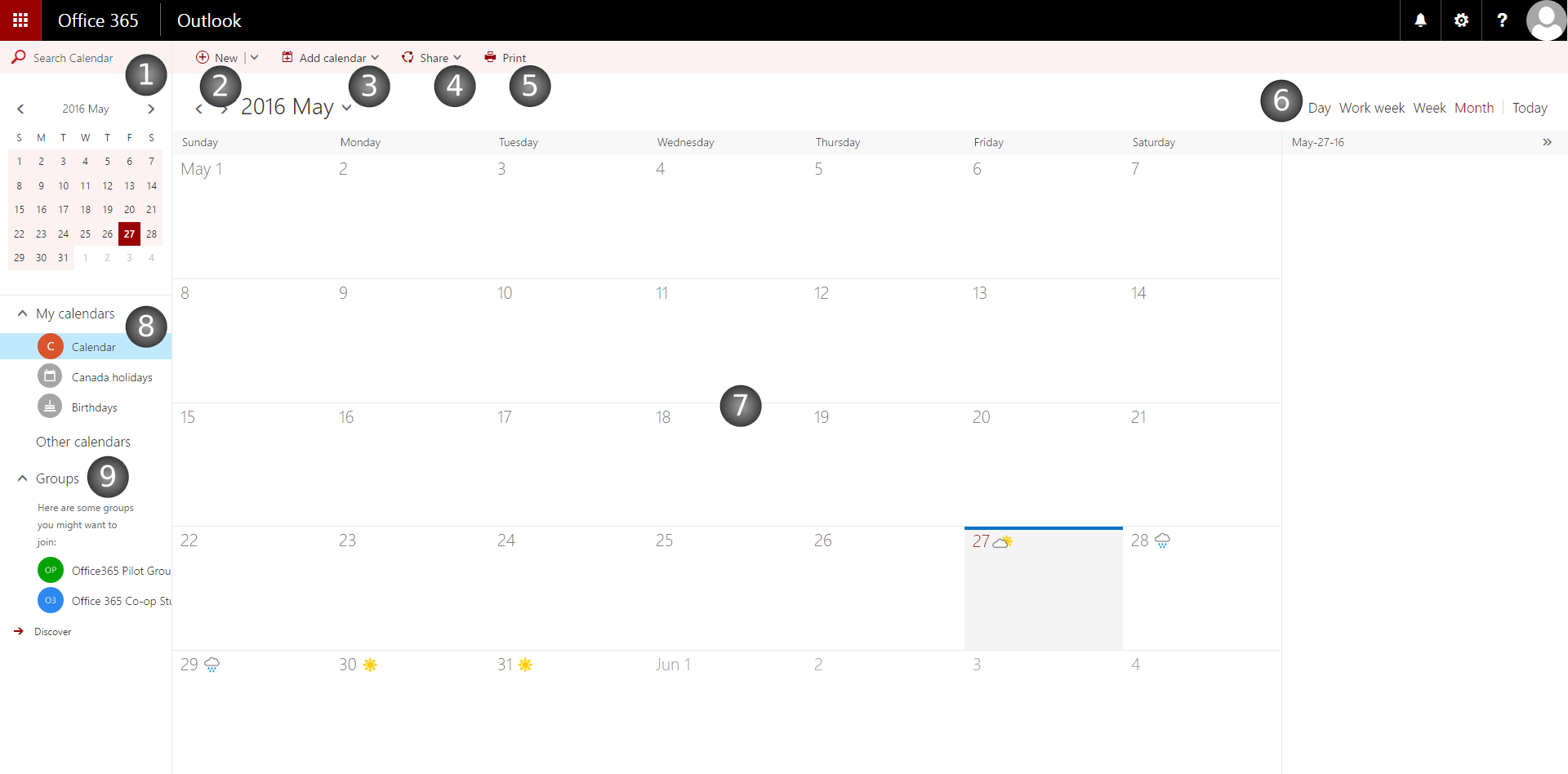 Search Calendar: Begin typing the name of a person or an event to locate a meeting or appointment containing a particular contact or event title, and then select  .
New: Add a new calendar event.
Add Calendar: Allows you to add another calendar to your list of calendars from internet, directory, or file. You can add a secondary, birthday or holiday calendar here.
Share: Allows you to easily share your calendar.
Print: Print a calendar in several views.
View options: Choose whether you want to see your calendar in Day, Work Week, Week or Month view.
Calendar pane: Calendars are displayed based on the view you want to use. Create a new appointment here by double-clicking a day or time slot.
My calendars: View more than one calendar at a time and create other calendars, such as a calendar to use for a specific project or to track personal appointments. You also can add other people's calendars, view multiple calendars in a single view, or select which calendar to display. To create a new calendar, right-click My calendar and select New calendar. To rename or remove a calendar, right-click the calendar and select Rename or Remove.
Group Calendars: View the calendars of the groups you are in by clicking on them here.
---
To create an event, you click New in the Calendar navigation bar.
Under Details, add a title, location, and start and end dates and times.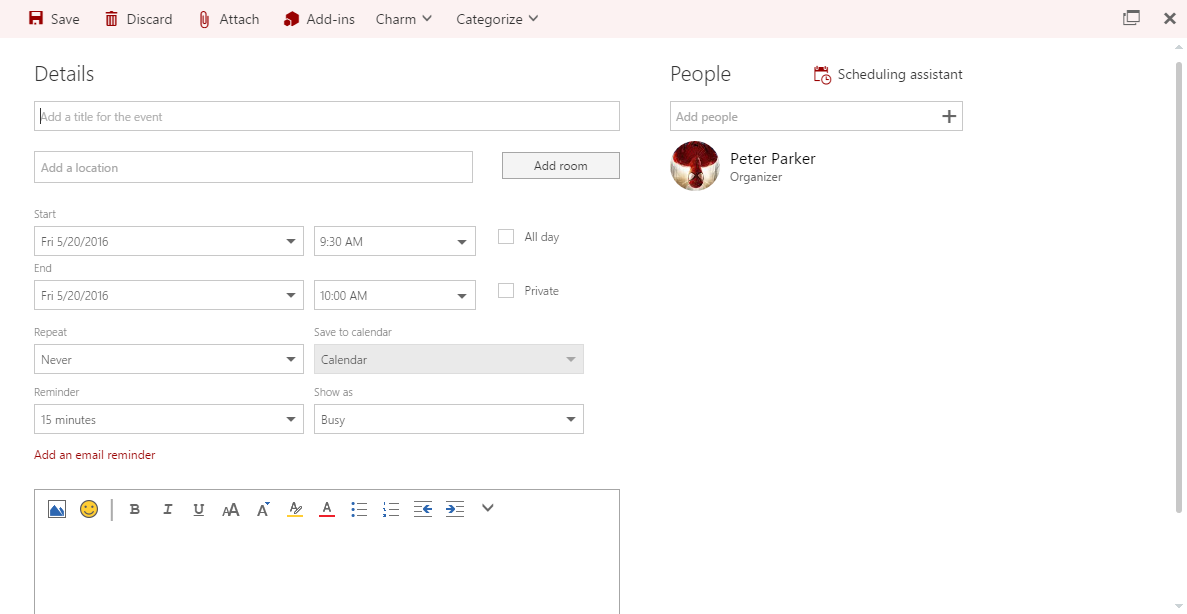 Tip: The followings are optional:
If it's an all-day event, select the All day check box.
When you don't want others to see the details of a calendar event, select the Private check box
To make this a recurring meeting (a series), in the Repeat list, pick how often you want it to take place, and in the From and To boxes, set the dates that you want the recurring appointments to span, for example, repeat this meeting every Wednesday from March 4th to May 6th.
In the Reminder box, set the lead time to remind the participants of the approaching appointment.
NOTE: Use the Email reminder and Send reminder to boxes to send an email reminder to yourself or to the participants. Fill out the reminder message box, and click Save.
To attach a file to the meeting, click Attach from the command bar.
Under People, enter the names or aliases of the people you want to invite.
Under the Outlook Calendar command bar, click Send.
Change or delete a calendar event
Select the calendar event, choose Edit or Delete. You can do one of the following:
To open and makes changes to a calendar event, click Open occurrence.
To open and makes changes to a series of calendar events, click Open series.
To delete a calendar event, click Delete occurrence.
To delete a series of calendar events, click Delete series.
TIP: You can drag the appointment or meeting to a different date on the calendar. You can also edit the subject by clicking the text and then typing your changes.
After editing, click Save, or for a meeting with other attendees, click Send.
/!\ Send will make sure that the attendees can be aware of the changes. The attendees too need to accept and send a response now so that the organizer can have their updated status.
---
To create a meeting and use the scheduling assistant, we will create a calendar event and invite attendees to it. The Scheduling Assistant can be used before or after you provide event details. If you provide the date, time, and duration of your event, and add attendees before you open the Scheduling Assistant, those details are carried over and you can change them as needed.
By using the Scheduling Assistant, you immediately get to view the calendar of an attendee and determine their availability-free or busy-for the date and time of the event.
On the Mail or Calendar menu bar, click New then Calendar event.
On the Details page for the new event, do one of the following:
Add event details - for example, title and location, start and end date and times, and other information - as needed, add people, and then choose Scheduling assistant.
Choose Scheduling assistant, and then, if needed, add attendees and add a room.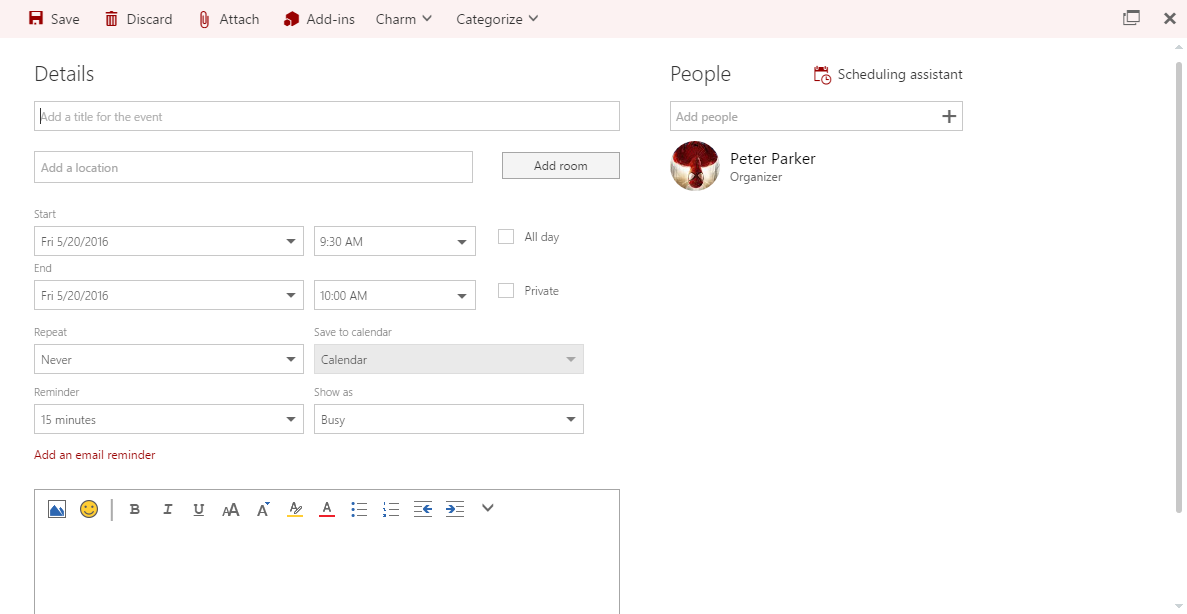 The scheduling assistant will line up the attendee's schedules for the suggested date in columns. It gives you the ability to see if anyone has other events that conflict with your suggested time.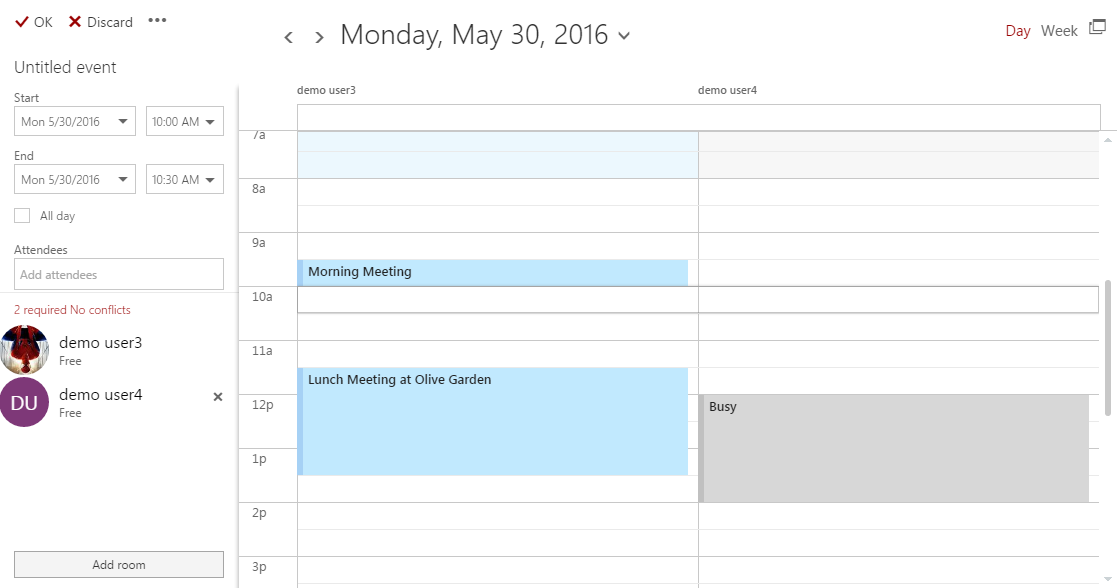 Back to top
---
To create a calendar, hover over My Calendars in the left pane, and click on the plus sign that appears.
A new calendar will appear at the bottom of the list of your calendars. Name the calendar and press Enter on the keyboard.
To personalize a calendar, right-click the calendar in the left pane and a submenu will pop up. Choose a charm and a colour from the palettes, which will save automatically.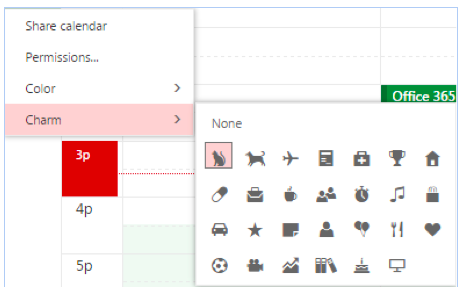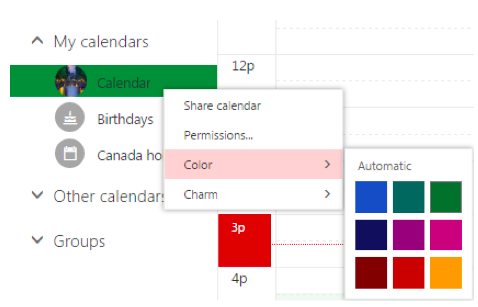 You can edit the location for the weather app in your calendar. Click on a weather icon, and then click Edit locations which will bring you to the settings.

---
In the left pane of Calendar, select a calendar.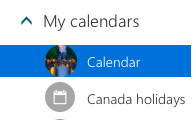 Under the Calendar navigation page, click Share.
In the Share with box, enter the full email address of the person you want to share your calendar with, and press Enter. If the person does not appear, click on Search Directory.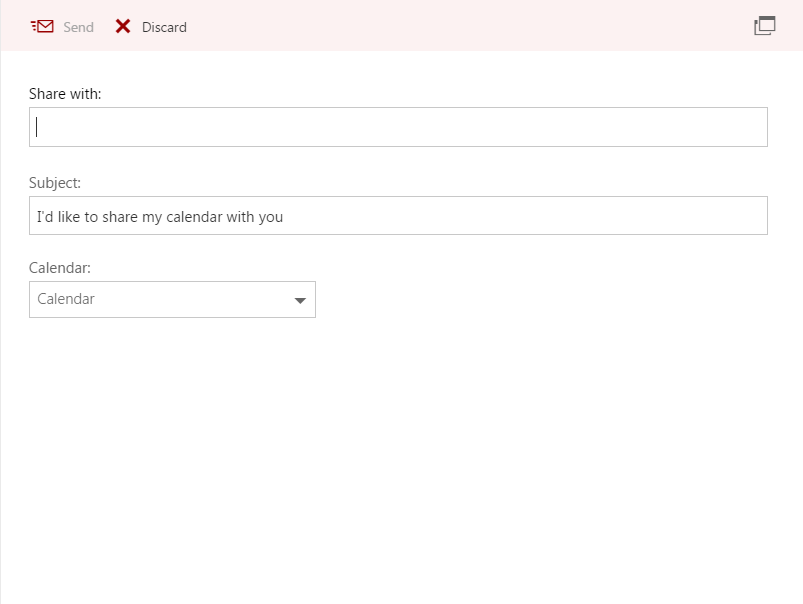 In the View details box beside a contact you added, click the down arrow, choose what you want the person you're sharing with to see and do with your calendar, and then click Share.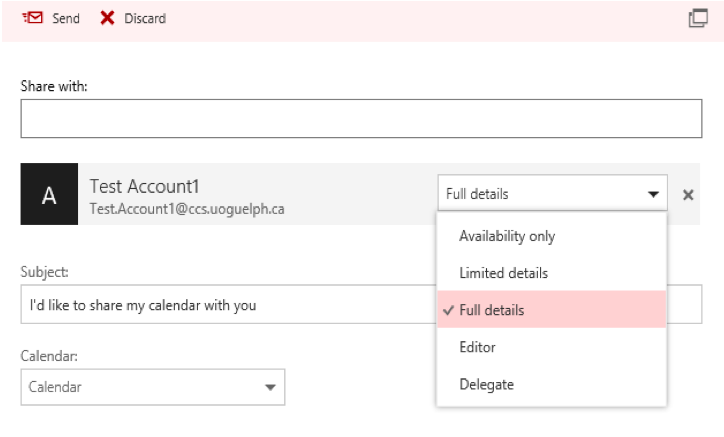 NOTE: The person you're sharing your calendar with will receive a sharing invitation in email.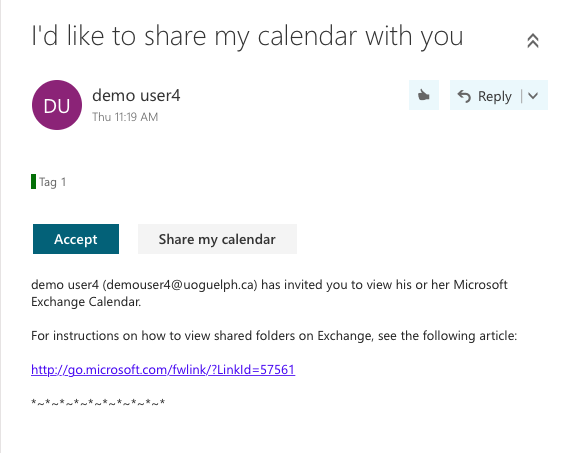 | | |
| --- | --- |
| Permission levels | You can |
| Availability only | Shows the time of the items on your calendar and no other details. |
| Limited Details | Show time, subject, and locations, but no other information. |
| Full Details | Show the time, subject, location, and other details of all items on your calendar. |
| Editor | Gives permission to edit your calendar. |
| Delegate | Gives permission to edit your calendar, and to send and respond to meeting requests on your behalf. |
You can change the permissions for a calendar, or revoke the share completely.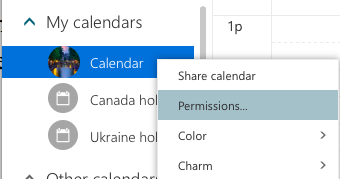 Find the person you want to change the permissions for, change the permissions level or delete the share (Revoke).
/!\ To stop sharing your calendar publicly, change the Public Calendar setting to Not Shared.
Hit Save to keep your changes, or Discard to cancel.
Note: When deleting a person from the list of people you shared your calendar with, the URL stops working for them. When you set your Public Calendar to "Not shared", the associated URLs when you first shared your calendar also stops working.
---
Choose the calendar you want to share, select Share in the command bar and grant delegate access.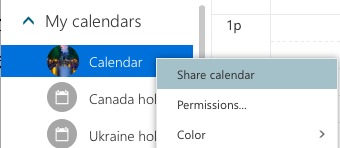 When selecting Delegate, you are giving the same permissions as an editor, and the person you shared the calendar with will be able to send and respond to meeting requests on your behalf. If you want to allow full access to a delegate, make sure you checkbox "Let Delegate view private events".
Once you've giving delegate permissions, you'll see an additional option under Calendar permissions that lets you control how meeting are handled. To set these options:
Go to your Calendar and right click the calendar you already shared,
Click Permissions,
In Global Delegate options, under "Send meeting responses to", select the options that matches your need, make sure to click save when you made the changes.

Your options are:
Delegate only. Send me notifications: meeting request is sent to owner and the delegate of the calendar. Only the delegates see the options to Accept, Decline or Tentative,
Delegate only: Meeting requests and responses go only to the delegates,
Both my delegate and me Meeting requests and responses are sent to you and to your delegates.
---
In most cases, when you share your calendar with a Delegate, you do so giving the individual "REVIEWER" permissions. By default, REVIEWERS do not see the details of your private appointments. There may be circumstances where you wish a Delegate to also review the details of your private appointments. 
Please note: Configuration must be completed through the Outlook desktop version (not through the Outlook Web App). You can use Outlook 2013 or 2016 for Windows or Outlook 2016 for MAC. CCS strongly encourages all users to utilize the feature-rich Outlook 2016. These instructions are created based on Windows Outlook 2016. Once the permissions are established in Outlook, they will also exist in the Outlook Web App. Delegates will be able to see private from the Outlook Web App version or Windows Outlook 2013/2016 version. Due to MAC limitations, reviewers on a MAC cannot see private appointments and are encouraged to go through Outlook Web App.
Ensure that Outlook desktop version is installed and configured on your computer.  https://www.uoguelph.ca/ccs/office365/support/desktop-email-client-configuration
Once your Outlook profile is set up, open Outlook and click 'File'.

Click 'Account Setttings' and select 'Delegate Access'.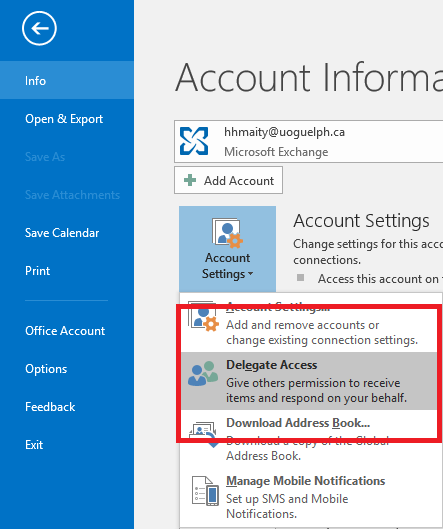 You will then get a Delegate pop-up box. Click 'Add'.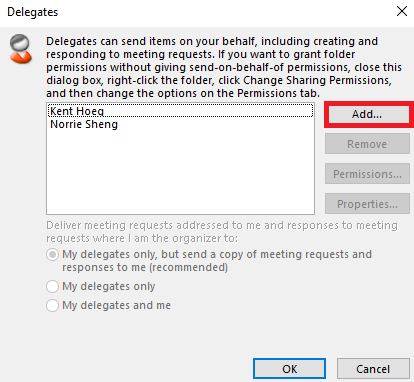 Look for the person in the Address Book (be sure to select the Offline Global Address List) that you want to give permission to be a Delegate (to review your calendar and also view private appointments) and click 'OK' at the bottom of the screen.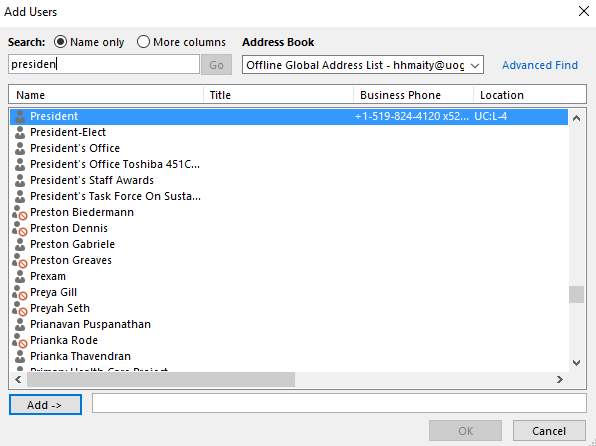 When you see the next window pop up, do the following:
Under Calendar, select "Reviewer (can read items)"
Check the two boxes at teh bottom of the screen:

Automatically send a message to delegate summarizing these permissions
Delegate can see my private items
Click 'OK' to apply the changes. The Delegate will now receive an email summarizing their permissions.
---
In Outlook Web App (see below for instructions in Outlook desktop version)
When a user wants to share a calendar with you, you will receive an email invitation. Click Accept to accept the invitation.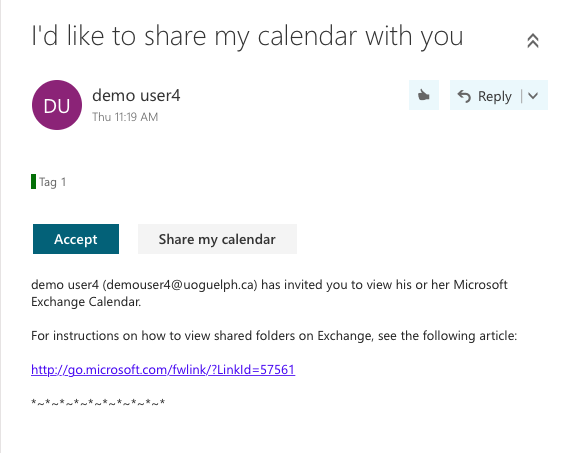 Now the shared calendar will appear under Other calendars to view.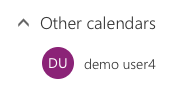 In Outlook Desktop Version
As the Delegate, once you have receive the confirmation email, permissions have been set. 

As the Delegate, you will now need to add the shared calendar to your Outlook. You can access a shared calendar through Outlook Web App (see above) or on Outlook desktop as per the instructions below. 
Go to your calendar.
Right click 'Other Calendars'.
Select 'Add Calendar' and then choose from Address Book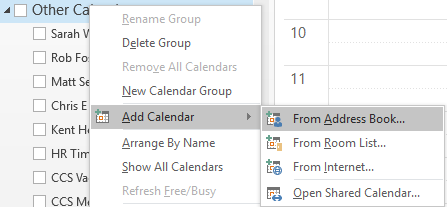 Type in the name of the calendar owner (person who shared their calendar with you) in order to locate them in the Global Address List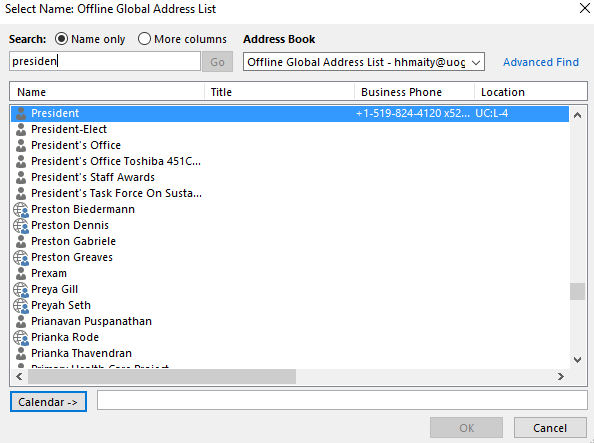 Once found, click 'OK' and the calendar will be added under "Other Calendars".
You can drag and drop this Calendar anywhere in your folder listing.  For example, under "My Calendars".
It may take 15 to 30 minutes for the synchronization process to complete.
---
When creating or accepting an event, you can modify the Show as setting. The options are: Free, Working elsewhere, Tentative, Busy, and Away. By default, it will show as Busy.
---
You can import a static calendar or link to a calendar on the Internet.
Import a static calendar
Under the Calendar navigation bar, click Add calendar.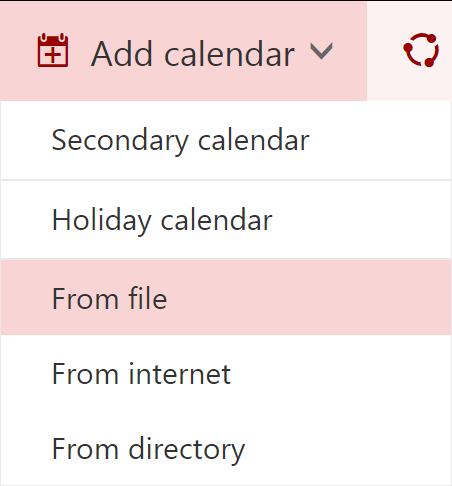 Click From file, click Browse, choose an .ics file, and click Open.
3. Click the down arrow under Calendar, and choose a calendar type from the list.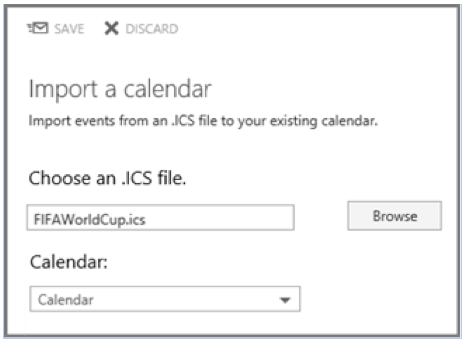 Select Save.
Link to a calendar on the Internet
Under the Calendar navigation bar, click Add calendar.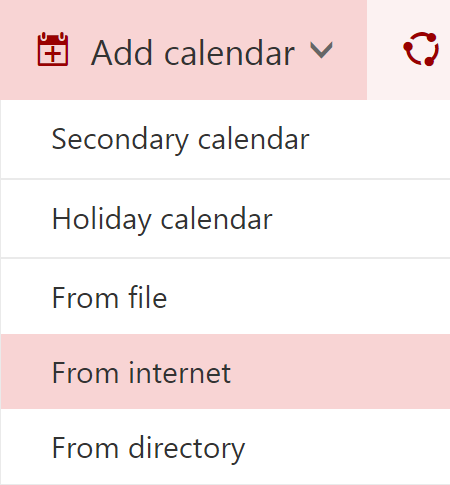 Click From internet, and in the Link to the calendar box, type or copy and paste the web address of the calendar. For example, iCalShare maintains thousands of calendars on their website.
In the Calendar name box, enter a name for the linked calendar.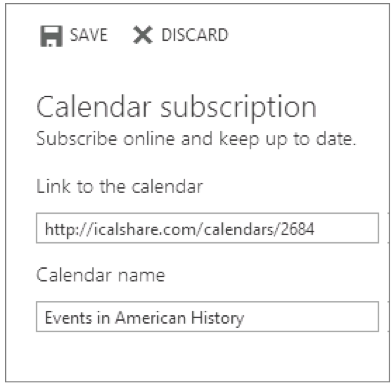 ---
To print a calendar in different views (Day, Work, Work Week, or Month), select the calendar you want to print and click Print in the Command bar.
You can select which view you'd like to print, as well as change the layout and time, and select if you'd like to print out a detailed agenda. The first screen shot shows an example of "Week View, formatted for printing" and the second screen shot shows "Agenda view, formatted for printing".
---
Calendar Appearance
Here you change your work week, working hours, first week of the year, first day of the week, hours in certain minute increments and bright or light colours.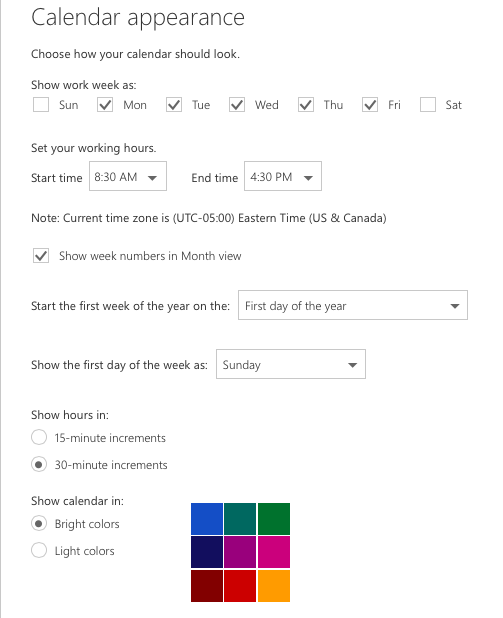 Reminders
You can set your reminders to show alerts, play sounds, and default time for a reminder.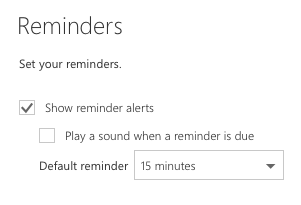 Weather
You can choose to show or hide weather, the temperature scale, and the locations (you can have more than one).