Groups
With the introduction of Microsoft Teams, CCS will no longer be creating new Microsoft Groups as Teams offers the same functionality as Groups.  Users scan create their own Teams rather than putting in a request.  Users with existing Groups are encouraged to switch to Teams or they make continue Groups.
More information on Teams as well as how to create Teams can be found here:  https://www.uoguelph.ca/ccs/office365/getting-started/what-is-office365#teamsCollab
Office 365 Groups are used to communicate, collaborate, and schedule events with colleagues. Users can find, and join Groups right from their inbox or calendar, as well as, share and create files and OneNote in the group.  Once created, Office 365 groups are displayed in Outlook on the web, OneDrive and other apps in Office 365 for the group owner, the group owner can add/delete and manage the group.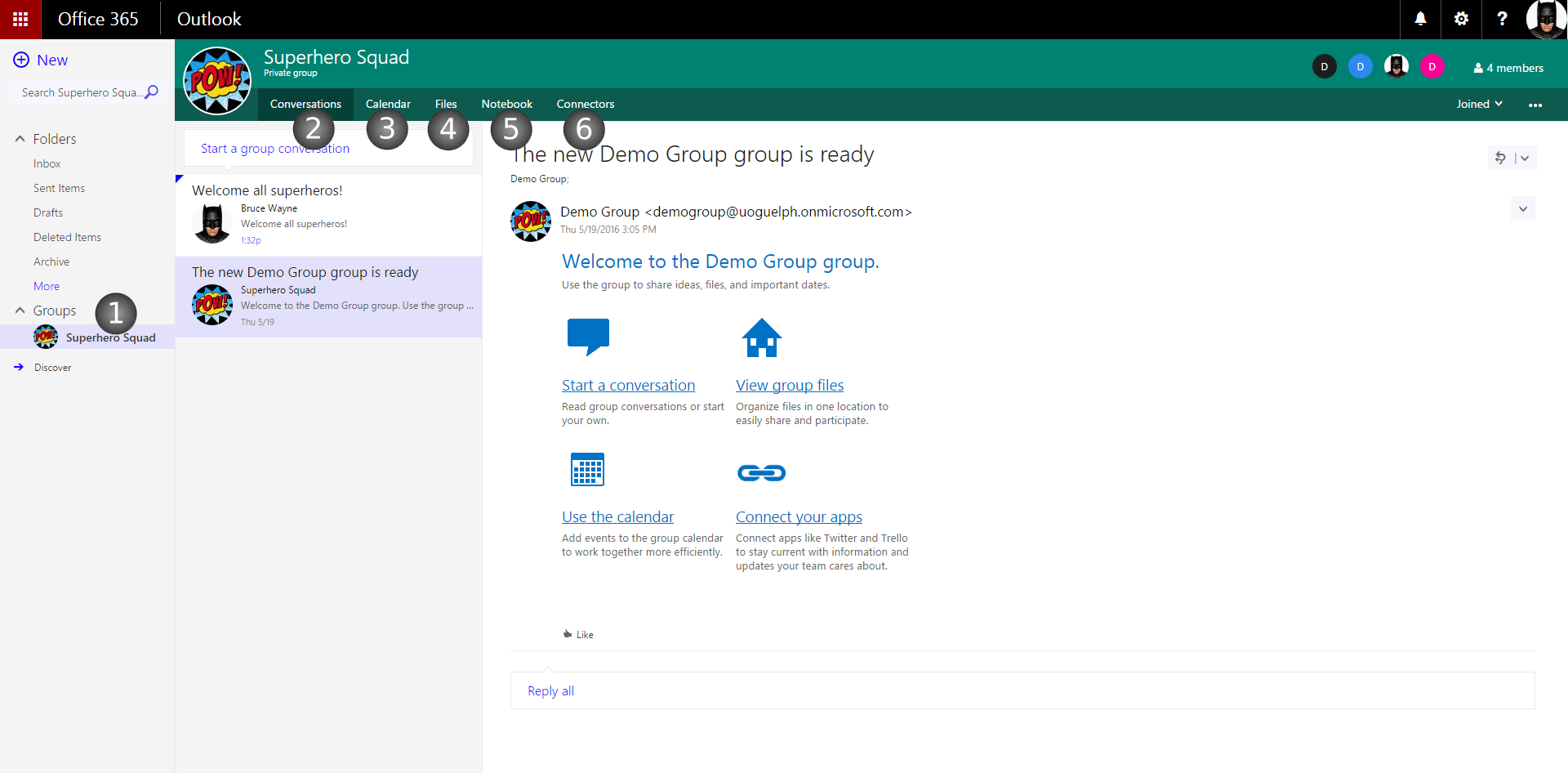 Groups display here, you can click to a group to access the content
Conversations and email: You can send an email to the whole group in Conversations
Calendar: This calendar is accessing to group owner's and member, you can schedule a group meeting directly in this calendar
Files: You can share and access the files shared with the group through OneDrive for Business by clicking Files
Notebook: Shared notebook for Group owner's and members
Connectors: This feature is not currently enabled.
---
To get things started and keep things going, an important part of any group is communication. A group has its own mailbox so all group emails are easy to locate and manage. In Outlook Web App, you can also have a conversation with group members by posting and replying to short messages. The entire history of conversations is preserved, helping new members get up to speed quickly. 
Conversations are sorted by date from oldest to newest (with the newest at the top), you can quickly catch up with new conversation messages which are marked with a blue tab and even add attachments.
Occasionally, you might want to send an email message to the group, to ensure everyone gets the message right away. When you create the message, just type the group name on the To line.
---
A dedicated group calendar helps all members coordinate their schedules. Everyone in the group automatically receives meeting invites and other events. If you belong to more than one group, it's easy to view each group calendar side-by-side. Events that you create in the group calendar are automatically added and synchronized with your personal calendar. For events that other members create, you can add the event from the group calendar to your personal calendar, and the event automatically synchronizes with your personal calendar. Finally, you can overlay your personal calendar with a group calendar, to see how schedules align.
---
Sharing content, such as files and folders, is a hallmark of group collaboration. Shared content can live elsewhere in Office 365, but OneDrive for Business makes it convenient to view and edit files regardless of the actual location. Sharing content also helps unlock useful information hidden in mailboxes and personal folders. A group's One Drive for Business page is the primary place for group files, but you can access other shared and followed documents that you may need throughout the day to further collaborate with your group.

NOTE: When you try to add a folder, if you get the error message, Operation is not valid due to the current state of the object, contact your site admin. 
---
When you subscribe to a group, you are requesting that conversations or events from the group be sent to your inbox. If you prefer to use Outlook instead of Outlook Web App, it's a great idea to enable this feature, because it ensures that all members receive group email messages and calendar events in Outlook in a timely way so they can stay up-to-date on group activity. You can also reply to the conversations from Outlook, and the replies are immediately posted to the group conversation. Subscribing to a group is also helpful when you are actively working in different groups and related projects, and want to stay on the top of each conversation and calendar event from your inbox.
Subscribing is not enabled by default. You can enable subscribing for the group when you first create the group. After creating a group, you can also enable subscribing when adding a new member. Finally, each individual can enable or disable subscribing to suit their individual preferences.
If you think you are getting too much information from the group in your inbox, you can always unsubscribe from the group to reduce the information flow. The conversations are still available in the group, so you can revisit them from time-to-time to catch up on past conversations. There is a convenient unsubscribe link at the upper-right of all group email messages.