Office Online
Members of the University of Guelph will have access to lightweight online versions of Microsoft Word, Excel, PowerPoint and OneNote. These web browser-based applications can be used to view and edit documents online with real time syncing to OneDrive for Business. Office Online offers users the ability to lightly view and edit their documents, while the Microsoft Office desktop applications offers users the full features and functions of Office.
---
Office Online allows users to collaborate in real time. To work online from a computer, simply access any modern web browser. To see who is collaborating on a file, open the file in the appropriate Office Online web app. For example, a Word document can be accessed from OneDrive for Business via Office 365, and opened in Microsoft Word Online.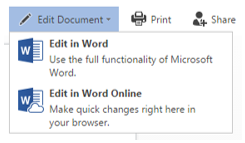 If the document is co-authored or shared between multiple users, edits can be tracked and viewed in real-time. A cursor flag with an attached name is colour-coded to each editor.

Permissions to modify a document can be granted to certain users, ensuring that the appropriate users have proper access to the document. The documents are stored on OneDrive for Business, and for detailed information on sharing, please see section 10.5 (Sharing Documents on ODFB) in this manual. 
---
With Office Online, your online documents are available anywhere with an internet connection, no matter what device you are using. A user can access Office Online on up to 5 computers, 5 smartphones and 5 tablets, for a total of 15 Office 365-connected devices. For smartphones and tablets, users can access and download free Microsoft applications from the respective app stores. These app stores include the Apple App Store, Google Play Store, and the Windows Phone Store.

Microsoft Scenario Based Training
Work Together Seamlessly with Office Online and Office 2016
---
/!\ NOTE: You are unable to enable track changes using word online.
/!\ NOTE: Changes made before track changes is enabled will not be tracked.
In order to enable track changes please follow these steps: 
Open document using the desktop client of Word.
Under the "Review" tab, click "Track Changes" to turn on.
Click Save.
/!\ NOTE: You are unable to view track changes using Word Online. BUT the edits are saved and can be viewed using the desktop client for Word.
In order to view track changes please follow these steps:
Open the document using the Word Desktop Client.
Under the "Review" tab, click "Reviewing Pane". 
A pane of revisions will appear on the left hand side of the screen.