WebEx - Limitations
The primary source for support or help is available from WebEx. You can also reach them via telephone: 1-866-229-3239 (1-844-548-1604 French). A full list of phone numbers for all regions is available.
CCS has collected the following information which might help with issues you are having. Please review these Limitations before submitting a help request.
---
NOTE: Limitations are issues that have been confirmed by the vendor as working by design or without any plan for being corrected and/or updated.
WebEx Requires Manual Intervention When Changing Central UserID 
At the current time, the WebEx system needs to be manually provisioned with userIDs. If your central userID changes for whatever reason, WebEx will need to be manually updated to recognize this new userID. Requests to update your WebEx userID can be submitted through the CCS Help Centre. 
Video endpoint enabled meeting rooms not compatible with local recording feature 
WebEx offers the ability to enable meeting rooms to accept calls from video conferencing endpoints. Unfortunately, when this feature is enabled, the built-in (local computer) recording feature is not available. By default, all meeting rooms will be deployed with the video endpoint compatibility feature turned off. If you require this feature enabled, please contact CCS. If you require the ability to record a meeting with the video endpoint feature enabled, you will need to use a standalone screen recording program.  
Schedule Meetings using your Personal Room Do Not Appear in WebEx Calendar (online or productivity tools) 
If you schedule a meeting, using Outlook for example, and you chose to use your personal room, this meeting (including repeating meetings) will not appear in either your online WebEx meetings list or your productivity tools calendar. Only meetings that do not use your Personal Room, i.e. a standard WebEx meeting, will appear in these WebEx specific calendars. The scheduled meetings using your personal room will continue to appear in your Outlook calendar. 
Sharing Microsoft Office files stored on OneDrive using the Share This File ribbon button does not work 
If you are editing a file that is stored in a OneDrive folder and you use the "Share This File" ribbon button, your meeting will start, but the file will not be visible. To share the file, you must first close the file, and use the file share mechanism in the WebEx menu : Share > File (Including Video...)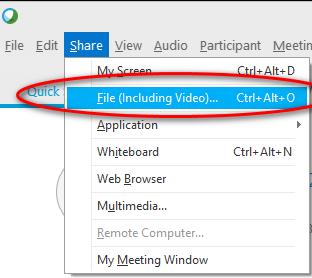 WebEx Meetings Not Updated When Updating Calendar Entries with "Copied" WebEx Link 
If you create a WebEx meeting using the WebEx web client and copy this information into a calendar entry and subsequently update the date/time of that calendar entry, the original WebEx meeting date/time will NOT be updated. To ensure WebEx meeting date/time are updated, use the Productivity Tools.
Skype For Business clients need to use a special address when joining video endpoint enabled WebEx meetings
If you have participants using Skype For Business who want to join your WebEx meeting, you will need to send them a special link. There is no way to include this special link in the invitation at this time.
---
If you need additional help or have questions about the service, please use one of the following methods for contacting the CCS Help Centre: 
Email us at IThelp@uoguelph.ca 
Phone us at 519-824-4120 ext. 58888 
Visit us at the IT Help Desk in the Library