CARE-AI: What's next?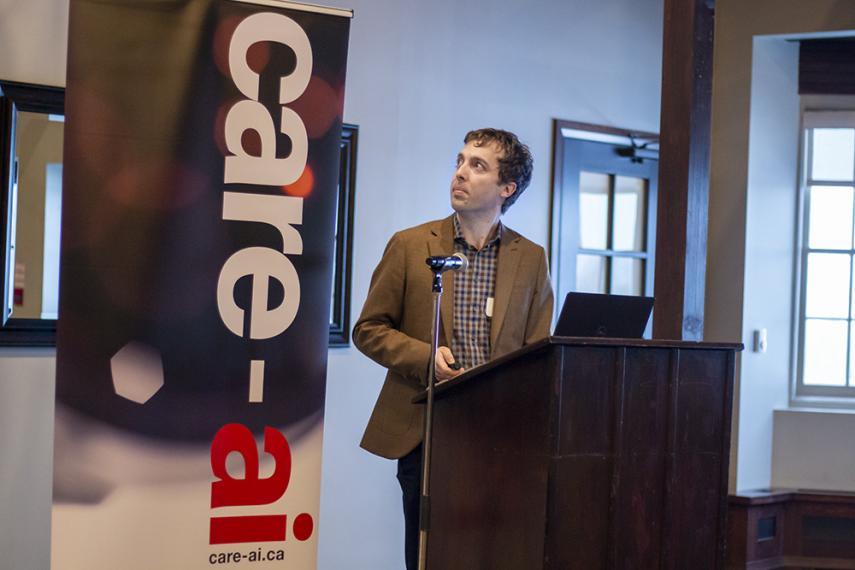 On January 24, CARE-AI hosted its advisory board and a networking event to discuss priorities.
Nearly 100 people– graduate students and faculty members, administration, and industry leaders from companies such as Deloitte and Google— gathered at Cutten Fields in Guelph in the early evening of January 24. Drawing this many people together on a Friday is no small feat, but the room was buzzing with energy. The event, taking place on the heels of an inaugural external advisory board meeting, would mark a year of effort— hiring new faculty and staff, expanding collaborations, launching new training programs, and establishing a world-class advisory board.
Artificial intelligence (AI) plays a major role in innovations and operations around the world, but a growing concern is to ensure that those developments benefit people and minimize inadvertent bias or harm. The Centre for Advancing Responsible and Ethical Artificial Intelligence (CARE-AI), a teaching and research centre at the University of Guelph, was announced in December of 2018. Since then, CARE-AI has been building its capacity and envisioning its five-year plan, accomplished through training and academic programming; research collaborations; community engagement and outreach; and expanded partnerships with government and industry.
CARE-AI's advisory board includes Heather Evans, Director of Frontier Technology Research, Asia Society Northern California; Anthony de Fazekas, Head of Technology and Innovation – Canada, Norton Rose Fullbright; Saadia Muzaffar, CEO/Founder, TechGirls; Lara O'Donnell, Executive Director, W. Garfield Weston Foundation; Ofer Shai, Chief AI Officer, Deloitte; and Steve Woods, Senior Engineering Director and Site Lead, Google. The board will counsel on strategy and direction for CARE-AI to ensure alignment with industry needs.
After vice-president (research), Malcolm Campbell, opened Friday's milestone event, the CARE-AI leadership team reflected on accomplishments, introduced two new faculty hires, and walked attendees through the Centre's priorities moving forward. 
"We've spent the past year building an ecosystem of expertise, focusing on people working to solve real problems that involve technical AI, while also building our capacity in moral and legal aspects," says Prof. Graham Taylor, academic director.
A core concept woven throughout CARE-AI's development has been embedded ethics in academic programs and partner projects. Rather than having ethics be a checkpoint or quality assurance step, CARE-AI leadership is weaving this perspective throughout entire processes. 
CARE-AI also recently launched a seed fund to kickstart new ideas in AI and AI ethics, completed the first semester of its inaugural Collaborative Specialization in Artificial Intelligence master's program, and hired two new faculty to support research and learning in ethical artificial intelligence. 
Prof. Lei Lei, hired within the School of Engineering, focuses on deep reinforcement learning research; and Prof. Joshua August (Gus) Skorburg, hired within the College of Arts, focuses on ethics and philosophy in AI. At Friday's event, the two new faculty members gave flash talks to introduce their expertise to attendees.
Read more about CARE-AI, an interdisciplinary collaboration led by the College of Engineering and Physical Sciences at the University of Guelph.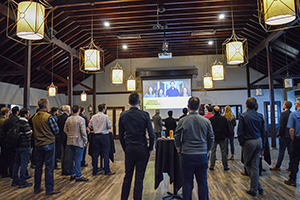 Attendees listening to CARE-AI's vision. Photo credit: Magdalena Sobol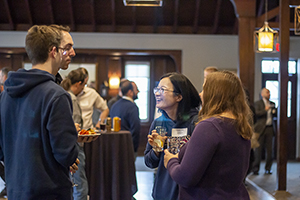 Attendees chat during the event reception.