Chemistry Staff Receive Exemplary Staff Award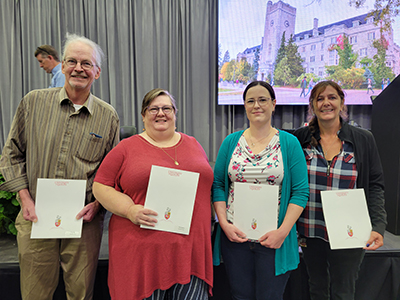 The Department of Chemistry lab coordinator team, comprising of Robert Reed, Kate Stuttaford, Jennifer Proulx and Dara Schaefer, have received the University of Guelph's 2022 Exemplary Team Recognition Award for their outstanding efforts to deliver high-quality learning experiences to students including pivots related to COVID-19.
The annual award bestowed by the president's office at U of G recgonizes "employees who have demonstrated outstanding service to the University community and/or who have made extraordinary contributions to the University community beyond what is normally expected in their job."
The team can be seen to the left in the front row as follows from left Robert Reed, Kate Stuttaford, Dara Schaefer and Jennifer Proulx with U of G leadership and other award recipients.
Congratulations!