Dr. Prasad Daggupati Receives Two Industry Awards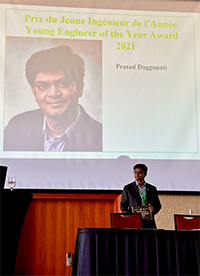 Each year, the Canadian Society for Bioengineering presents a Young Engineer of the Year Award to celebrate and encourage excellence within the Canadian bioengineering community, and recognize the work of a young engineer as well as encourage excellence among young members of the society.
The 2021 recipient of the Young Engineer Award is Dr. Prasad Daggupati, who is an Associate Professor in Water Resource Engineering at the University of Guelph.
Dr. Daggupati is also the 2022 recipient of the Young Engineer Award from the Northeast Agricultural and Biological Engineering Conference (NABEC), given to an NABEC member for outstanding accomplishments in research, design, extension or other areas in the field of agricultural and biological engineering and who also contributes to the overall advancement of the profession.
Congratulations, Prasad!