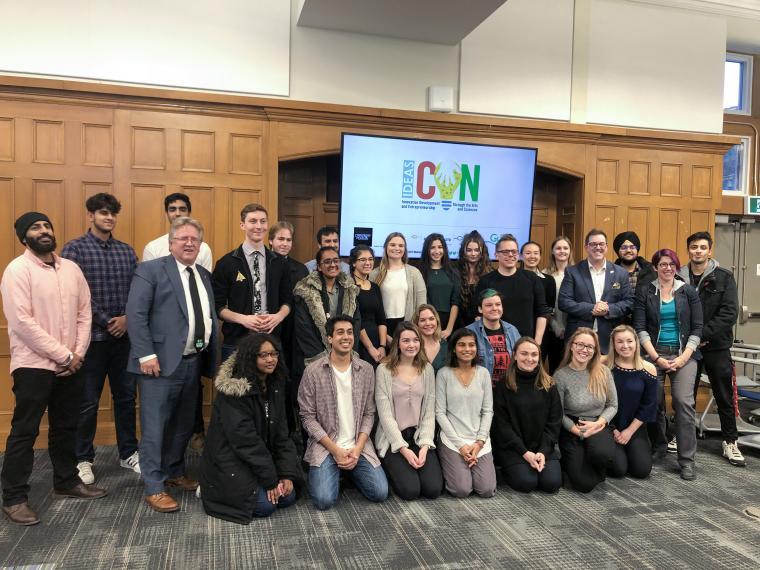 Can Guelph break free from plastic?
This semester's Ideas Congress class asked that question at the start of the semester in 2019. On November 22, they assembled in the University of Guelph's MacDonald Hall to pitch their strategic approach to an audience of peers and politicians, including mayor Guthrie and senator Black. The cohort crafted their pitches following months of careful research, proposal development, consultation with experts, and working in sections on teams. Four of those students were from the College of Engineering and Physical Sciences.
"Taking the ICON class helped me better collaborate and problem-solve in a project-based learning environment," says Aseel Mohamed, fourth year Bachelor of Computing (Computer Science) student. "I enjoyed the interdisciplinary aspect of the class and how it strengthened our educational diversity. We came up with solutions the City of Guelph could actually use to help the community. Overall, ICON was loads of fun, knowledgeable, and I'm very glad I had the chance to take it!"
| | |
| --- | --- |
| Aseel Mohamed, fourth year Bachelor of Computing (Computer Science) student. | Sooraj Modi, fourth year Bachelor of Computing (Computer Science) student. |
"I really enjoyed the collaborative aspect of the course. I got to work with people from arts programs and other majors I wouldn't normally," adds Sooraj Modi, fourth year Bachelor of Computing (Computer Science) student. "ICON is fantastic because we brought all these different experiences and perspectives to make something happen for the greater good. We're here today speaking front of the mayor, a senator, the university President's office – possibly influencing policy in Guelph."
Key takeaways from the pitch include a scullery system, leveraging existing technology, working with ENGO's, policy to support certified B corporation businesses in Guelph, and case studies from success stories in other cities.
When profs. Daniel Gillis [1] (School of Computer Science) and Shoshanah Jacobs [2] (Department of Integrative Biology) first created ICON, they weren't necessarily planning to have politicians in the audience – but it's no surprise that ICON has garnered this level of interest from decisionmakers.
"We wanted to get undergraduate students from all levels and all disciplines working together on real-world problems," says Gillis. "This is something these students will experience when they graduate – the real world doesn't work in silos, and this cross-collaboration fosters creative ideas that might not happen otherwise."
Students work with a community group or business (this year, the City of Guelph) while learning interpersonal, team, and communication skills. Past community partners have included Reid's Heritage Homes, The SEED Community Food Project, and Wellington Brewery, with challenges ranging from food insecurity to green design. Throughout the semester, students participate in workshops, team building activities, and knowledge translation and transfer exercises with access to expertise from across the college.
Look for ICON to resume in Winter 2020 [3] with a new cohort tackling a new challenge that will have real-world outcomes.