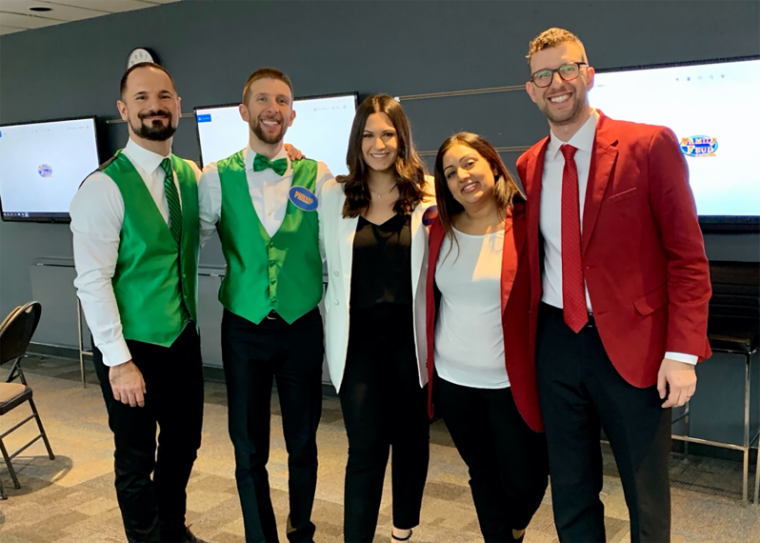 One University of Guelph student is taking family games night to the next level – the national level.
Fourth-year Bachelor of Science (Physics major) [1] student Melanie Hudakoc has chatted with her family for years about being on the popular game show Family Feud. When she saw the advertisement for a Family Feud Canada launching in 2019 [2], Melanie immediately called her cousins.
"We're a high-energy family, and we knew this was something we could have fun with. We also wanted to showcase our diversity," says Melanie. "As we said in our audition, 'we are an Italian-Canadian family, but with a Modern Family twist: An interracial couple, a member of the LGBTQ+ community, and a woman in STEM. We represent what it means to be Canadian – a strong connection to our roots, while being inclusive. And we have enough enthusiasm to power a lighthouse.'"
Production loved Melanie's family and application video, and invited them to join the show. They filmed at the Canadian Broadcasting Corporation (CBC) studio. For the audition and filming, Melanie says that her background in physics was key.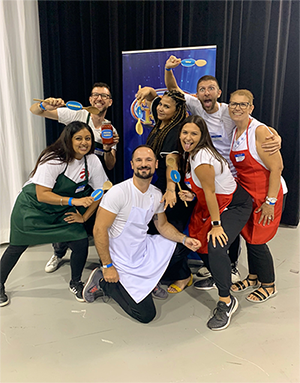 "Majoring in physics is both interesting and unique. That's what made me stand out during the audition," says Melanie. "Physics taught me how to think quickly and efficiently—skills that were really useful when competing on a game show."
Beyond helping her land a unique experience on Family Feud Canada, physics has been Melanie's passion since taking a first-year physics for biological sciences course.
"I was initially enrolled in a different program when I came to Guelph," says Melanie. "Now I'm in my fourth year doing something that I never thought I could thanks to that first-year course. It sparked a drive for me to understand the world around us through science. Physics takes hard work and discipline, but it's not as intimidating as you may think."
Melanie switched from her original program the following year to a Bachelor of Science, majoring in Physics and minoring in Mathematics. She discovered a second passion in science communication and physics education research during her third year. Melanie is also an avid supporter of women in STEM and participates in University outreach activities, along with being a University of Guelph social media ambassador and vice-president (communications) for the Physics and Astronomy Club. She's thinking about a career in outreach or education, but she's in no rush to commit.
"I strongly believe that your undergraduate years should be used as a time to discover your passions and explore different things." 
Watch for Melanie and her family on Family Feud Canada this December, and keep an eye out for a "University of Guelph" mention.