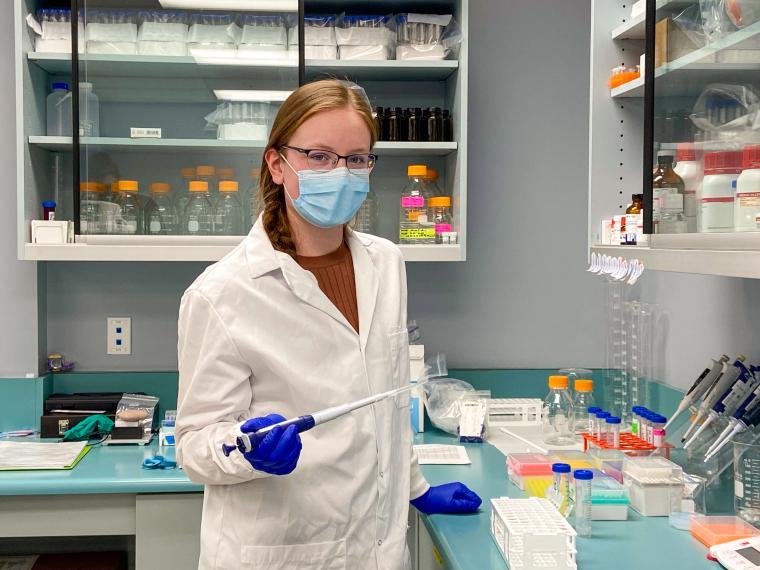 U of G biomedical toxicology grad Jasmine Sollen is a molecular scientist for the company she co-founded as a student.
Jasmine Sollen, Biomedical Toxicology (B.Sc.)
Molecular Scientist, Precision Biomonitoring
Jasmine Sollen (B.Sc., '20) made the rapid leap from undergraduate student to co-founder and molecular scientist for an organization that has been making national headlines for its contribution to the fight against COVID-19. 
"During one of my co-op work terms, I worked on campus in a molecular biology research lab where we developed a solution for on-site biomonitoring of species at risk," says Sollen. "We commercialized our environmental DNA (eDNA) detection platform as Precision Biomonitoring."
Precision Biomonitoring pivoted its focus to diagnostic tools for COVID-19 and other diseases in spring 2020 based on their existing eDNA platform. The company has recently been selected as a future Canadian economic powerhouse by the MaRS Momentum Program [1].
Sollen co-founded Precision Biomonitoring on her first co-op work term alongside four other scientists and innovators. She took a step back from the company to finish her studies but rejoined the organization full-time as cofounder and molecular scientist following her graduation in May 2020.
Now, Sollen is leveraging her innovative research and development chops to support COVID-19 efforts.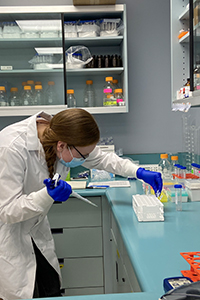 "While I helped with the launch of our first COVID-19 test kit, which is based on the gold-standard method of qPCR, I also began developing an even faster COVID-19 test," adds Sollen. "I am using technology that was, at the time, completely new to Precision: antigen testing. This test uses lateral flow technology combined with an optical sensor."
According to Sollen, the team had to learn about the technology as quickly as possible. After about one month of testing following several months of research and planning, Precision Biomonitoring entered the project in the XPRIZE Rapid Covid Testing competition [2] and were named one of 200 worldwide semi-finalists.
"The University of Guelph has been incredibly impactful for my career journey through experiential learning opportunities and my academics."
Sollen adds that her co-op work experiences were invaluable due to the on-the-job experiences they provided, including the opportunity to create Precision Biomonitoring. 
Through her degree, Sollen learned about proper research techniques to support evidence-informed decision-making in her current role. The interdisciplinary biomedical toxicology major, a collaboration between CEPS and the College of Biological Sciences, also provided a basis of knowledge on both molecular techniques and on human physiology and disease, which helped Sollen learn about the SARS-CoV-2 virus in the early months of the pandemic.
In her studies and career, Sollen follows one particular philosophy that supports her—one that is particularly relevant given the strain that the COVID-19 pandemic has had on mental health.
"It's so important to give yourself grace. This means being okay with having a bad day sometimes, or making a mistake, or needing time to rest. It means not holding yourself against unrealistic standards."