CEPS Publications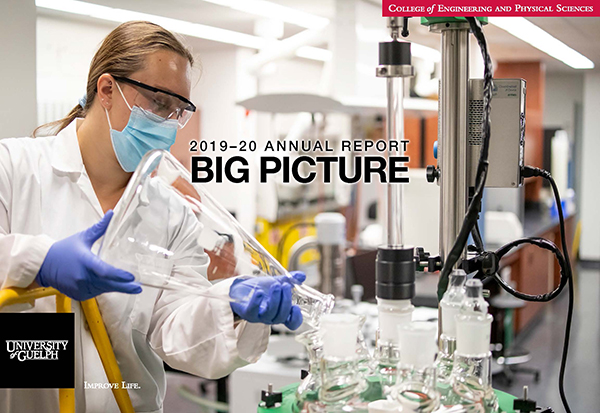 The College of Engineering and Physical Sciences is pleased to present its 2019–20 annual report: Big Picture. At the University of Guelph, we boast internationally-renowned faculty and staff who are driving research discoveries and innovations that support a changing world. Our students graduate equipped for a shifting job market; prepared for dynamic careers in science, technology, engineering and mathematics (STEM); and poised to advance society in meaningful ways that improve life.  
This newly-launched annual publication is a statement of record to demonstrate our performance in the previous year, and provides an opportunity to share the stories of our community's achievements.
Read the accessible PDF (optimized for print and desktop viewing).
Read the responsive web version (optimized for mobile and tablet viewing).
---
Newsletter Archive
Explore the latest College research, stories and news.
The College of Engineering and Physical Sciences newsletter shares current updates, news, stories, discoveries, research and innovation from the College. Subscribe now to receive the newsletter. Contact the dean's office if you are College faculty, student, or staff and you have a potential story for the next newsletter.
Issue 9 September 2021
Issue 8 May 2021
Issue 7 March 2021
Issue 6 January 2021
Issue 5 November 2020
Issue 4 September 2020
Issue 3 June 2020
Issue 2 March 2020
Issue 1 January 2020