CEPS Publications
CEPS Annual Report 2020–21: It Starts Here
The College of Engineering and Physical Sciences is pleased to present its 2020–21 Annual Report: It Starts Here. Over the past year, our community of faculty, staff and students have continued to demonstrate their commitment to excellence and each other. Their stories and innovations help advance us towards our shared priorities to improve the health of our planet and the wellbeing of its inhabitants.
---
CEPS Annual Report 2019-20: Big Picture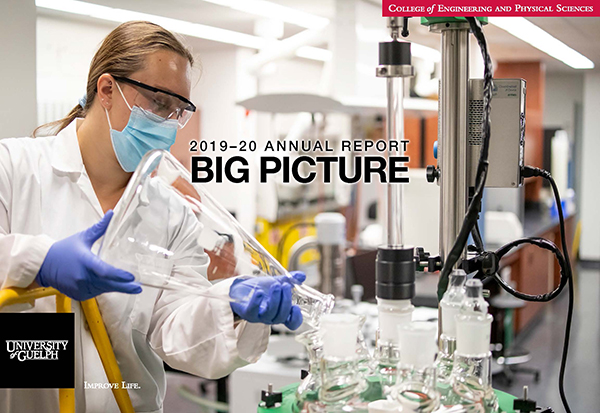 We are home internationally-renowned faculty and staff who are driving research discoveries and innovations that support a changing world. Our students graduate equipped for a shifting job market; prepared for dynamic careers in science, technology, engineering and mathematics (STEM); and poised to advance society in meaningful ways.
Read the accessible PDF (optimized for print and desktop viewing).
Read the responsive web version (optimized for mobile and tablet viewing).
---
Newsletter Archive
Explore the latest College research, stories and news.
The College of Engineering and Physical Sciences newsletter shares current updates, news, stories, discoveries, research and innovation from the College. Subscribe now to receive the newsletter. Contact the dean's office if you are College faculty, student, or staff and you have a potential story for the next newsletter.
Issue 16 May 2022
Issue 15 April 2022
Issue 14 March 2022
Issue 13 February 2022
Issue 12 December 2021
Issue 11 November 2021
Issue 10 October 2021
Issue 9 September 2021
Issue 8 May 2021
Issue 7 March 2021
Issue 6 January 2021
Issue 5 November 2020
Issue 4 September 2020
Issue 3 June 2020
Issue 2 March 2020
Issue 1 January 2020