Grad Improving Accounting Tech through Machine Learning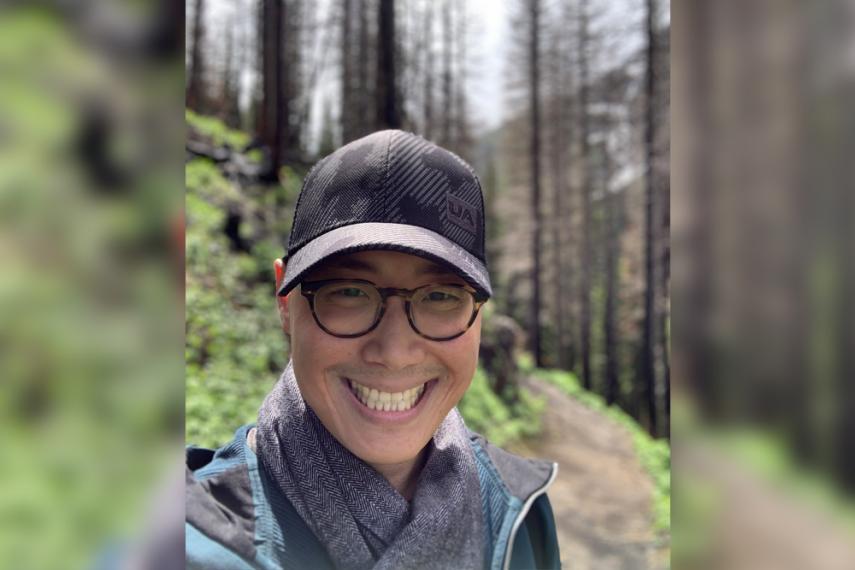 Edward (Eddie) Kim graduated from the University of Guelph with a B.Sc. majoring in Nanoscience and minoring in Physics ('14). The education and career journey that follows spans North America – Eddie pursued a PhD in materials sciences at Massachusetts Institute of Technology (MIT), roles in machine learning and data science at Pfizer and Citrine in California, before returning to Toronto in the role of Principle Applied Scientist, Machine Learning Products at a global tech firm. We chatted with Eddie about his career.
Tell us about your work and your role.
I'm a Principal Applied Scientist on the Machine Learning Products team at Xero Ltd. In this role, I lead and manage a team of machine learning scientists on projects spanning image recognition (e.g. identifying receipts in photographs) to natural language processing (e.g. automatically detecting which business issued an invoice).
Xero is a New Zealand-based publicly traded accounting software company that has recently expanded into Canada, so another major thrust of my role is to build up a world-class group of scientists in our Canadian offices. 
Your education and career journey begins at U of G in Nanoscience but takes some interesting directions across different scientific areas and spanning two countries. Can you tell us about how you got to where you are now?
I was really interested in changing gears for my graduate studies. I hadn't decided what that meant, exactly, until the last minute. At the very least, I knew that I wanted to push myself at an internationally competitive school. Truth be told, I got exactly what I wished for! MIT was hard: the academic pace was very fast, paired with the fact that graduate school is pretty isolating as an international student not being near friends and family.
I found that machine learning research was a nice getaway from all this -- many of my lab group members were also working on machine learning, and so discussing exciting scientific problems together was a fantastic bonding experience, especially since machine learning is a very fast-moving area of research.
When I got into machine learning, I felt that it hit the right balance of personal interest and market opportunity. This experience led me to roles at Pfizer and then Citrine, where I worked on increasingly complex and high-stakes projects. It has gotten me to a good spot in my career now, but reflecting on it, I probably went a little too "all out" on racing forwards at the start of my career. 
Tell us about a recent complex or interesting project you led. 
At Citrine, I spent some time working on optimizing structural materials for the automotive industry. We were looking to leverage machine learning to harness historical lab data and thus use computers to guide our way to creating stronger materials for various interior automobile parts. I served as a technical lead for a project in this portfolio, which involved, among other duties, making final judgment calls on whether to go forward with an experiment that our algorithms had recommended. A highlight in this project was seeing some of our first machine learning predictions come to life. In some applications, a machine learning or AI prediction ultimately outputs a number on a website or mobile app. In this case, I flew to Germany to an industrial manufacturing site, watched as large-scale chemical manufacturing lines loaded up precisely the instructions our algorithms had predicted, and got to hold the final products in my own hands. 
What do you enjoy most about your work?
I enjoy working with kind, empathetic, smart, and curious people. Science can be flashy, and it can be boring (and often it flip-flops in between). What makes it worthwhile is having a team that makes your work feel meaningful every day. 
How did your education at U of G contribute to your career and journey after graduation?
I was lucky to experience working in all kinds of scientific settings during my time at Guelph. In the physics department, I traveled to huge synchrotron (electron accelerator) facilities, explored uranium mining sites, and ran my own computer programs on supercomputing clusters. Having this breadth of opportunity allowed me to understand what I enjoy, what I'm good at, and gave me a solid understanding of how to perform academic research. 
What was your favourite thing about the University of Guelph?
My favourite part of Guelph was the campus itself. It's a bit cheesy, but the history of Johnston Hall and the tranquility of the arboretum are some key examples of how the campus did wonders for reminding me why I was spending time studying there and how my work was a small part of scientific history and a (very) small part of nature more broadly. Now that I think of it, walking around the university to ponder tough scientific problems is something I often did. 
Is there a quote, saying, or philosophy that you look to for inspiration/support?
The "golden rule" (treating others as you want to be treated) is the main one that comes to mind.