Celebrate Pride Virtually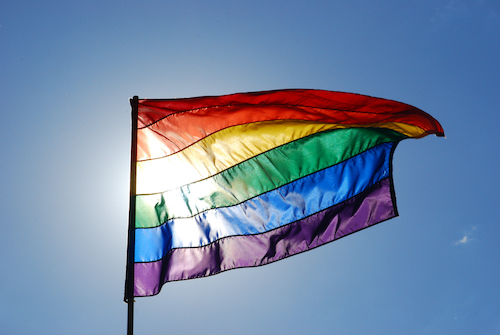 Image Attribution: Michael Kazarnowicz
License: CC BY-NC 2.0.
Happy Pride to our Guelph Community! Here at the School of Computer Science and the University of Guelph we are committed to an inclusive and diverse community that values respect, equity, and belonging. While we can't celebrate Pride in person this year, here are some virtual events that you can attend from both Guelph Pride and Toronto Pride, as well as resources and information about Pride.
Guelph Pride:
Join Guelph Pride for a week of Pride events hosted by community members and our schools very own Guelph Queer Equality club!
Wednesday June 3rd:
Pride on the Street 12:00pm-12:30pm

Jackbox Game with Guelph Queer Equality (UofG club!) 7:00pm-9:00pm
Thursday June 4th:
HIIT & Core Workout with Bent Bar Fitness 12:00pm – 1:00pm

Get Ready with Athena McQueen 8:00pm – 10:00pm
Friday June 5th:
Accessible Workout with Bent Bar Fitness 12:00pm – 1:00pm

Fierce! X Guelph Pride 9:00pm – 12:00am
Saturday June 6th:
Pride Pop-up Poetry with Guelph Spoken Word 7:30pm – 9:30pm
Sunday June 7th:
Netflix Party with Guelph Queer Equality (UofG club!) 2:00pm – 4:00pm

Workshop: Supporting Each Other Through Tough Times 5:00pm – 6:30pm
Toronto Pride:
Toronto Pride has made virtual Pride events available for the entire month of June! Tune into their weekly events for workshops, discussions, and trivia! We have also highlighted some of the events held during what would have been Pride Festival Weekend below:
Trans Pride June 26th 1:00pm – 3:30pm
Youth Programming – Bloom June 26th 3:30pm – 5:30pm
ASL (American Sign Language) Programming June 27th 2:00pm – 3:30pm
Black Queer Collective June 28th 11:30am – 1:30pm
Online Pride Parade June 28th 2:00pm – 4:30pm
Resources:
University Resources and Clubs:
Community Resources and Information:
Help Lines:
The Trevor Project: 24/7 suicide prevention lifeline for LGBTQ+ individuals as well as anonymous chat support
Youth Line: Anonymous peer support and referrals