Community Honours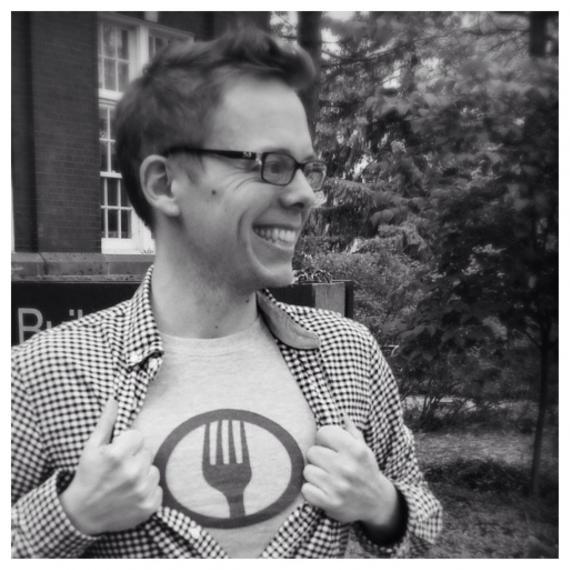 Last Wednesday the Guelph Mercury announced the 2014 recipients of the 40 Under 40 awards.
The awards honour members of the Guelph community who are under 40 years old and who exhibit "unique quality of character and exceptional contributions to their community."
School of Computer Science Assistant Professor Dan Gillis was one of the recipients of the award. Gillis, along with friend Danny Williamson, co-founded Farm-To-Fork.ca - a website that aims to improve the quality and quantity of food that enters the emergency food system. Designed by Gillis' 3rd year computer science class, the website allows donors to create an account, link to a local emergency food provider (such as the Guelph Food Bank, or Hope House), and identify when they go grocery shopping. The system does the rest - sending donors an updated list of needs before their weekly grocery outing.
"Farm To Fork was supposed to be a course project, but the students have created something that has implications well beyond the classroom, well beyond Guelph. They've worked tirelessly; from designing and building the website, to speaking about the project in the community. They've gone above and beyond." said Gillis.
When asked about the recognition, Gillis stated "It's a huge honour and also very humbling - but this is the result of an incredible team. Farm To Fork wouldn't have happened without the Institute for Community Engaged Scholarship, the Guelph Wellington Food Round Table, the expertise of our local emergency food providers, the support of the University, the College of Physical and Engineering Sciences, and the School of Computer Science, and of course, the students."
The Farm To Fork project will soon be expanding to neighbouring cities, and the students are currently designing prototypes for a mobile application for release later this year.
You can read the full article from the Guelph Mercury here.