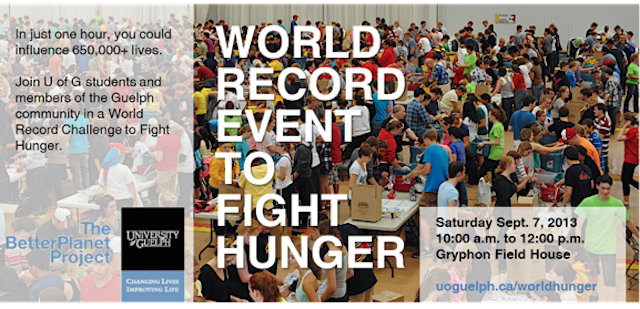 In a few short weeks campus will be filled with new and returning students. And as is tradition the first few weeks of the semester will be filled with orientation activities.
One such activity is the World Record Event To Fight Hunger. In its third year, this event challenges students, staff, faculty, alumni, and citizens from Guelph and beyond to come together and pack emergency relief meals for such places as Haiti and Mauritania. Created and organized by Gavin Armstrong [1], this year the event is attempting to bring together over 2000 volunteers to pack a record setting 650 thousand emergency relief meals in 2 hours.
To make this goal a reality, the University of Guelph is seeking anyone who might be interested in volunteering to pack food, or to act as event Green Shirts. If you are interested or require further information, please click here [2] or contact Stephanie Butler [3].