Last Wednesday the College of Physical and Engineering Sciences hosted the CPES Undergraduate Poster Session. Designed to showcase undergraduate research projects, the event drew a large number of contributors from all of the units within CPES. Seven undergraduate students from the School of Computer Science presented four posters covering a range of topics.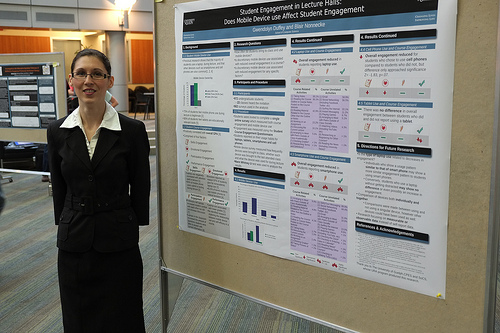 Gwendolyn Duffey presented her poster titled Student Engagement in Lecture Halls: Does Mobile Device use Affect Student Engagement [1].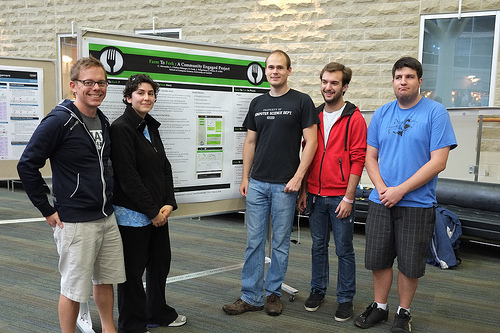 Corey Alexander, Lee-Jay Cluskey-Belanger, Oliver Cook, Justin Tempelman, and Jennifer Winer presented two posters: Farm To Fork: A Community Engaged Project [2], and Developing an Online System to Facilitate Community University Engagement [3].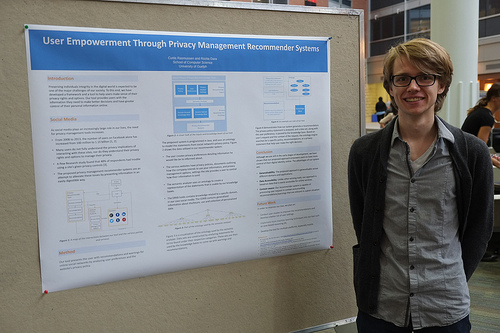 Curtis Rasmussen also presented User Empowerment Through Privacy Management Recommender Systems [4]. 
The students are advised by Professors Nonnencke, Gillis, and Dara, respectively. Projects were funded in part by the University of Guelph Undergraduate Research Assistant program, the Learning Enhancement Fund, and the School of Computer Science. For more photos of the event, click here [5]. To learn more about the projects, see below. To view the posters, click the titles above.  
Student Engagement:
Mobile technology ownership and usage in university classrooms has increased dramatically over the last few years. While, many students view laptops and tablets as educational tools, they also report using them for non-academic activities. Gwendolyn's research explored the relationship between student course engagement and the use of laptops, smartphones, tablets, and cell phones during lecture. Undergraduate students responded to an online survey asking about both course engagement and mobile device habits. Results show that students using smartphones and laptops were less engaged overall than students who did not. However, no difference in overall engagement was found between students electing to use tablets or cell phones compared to students who did not.
Farm To Fork:
In a culture that wastes upwards of 40% of all food produced, and where 1.6 billion people consume too much, how can we improve the lives of the almost 1 billion who are food insecure? The Farm To Fork project is a computer science solution with the single goal of increasing the quality and quantity of food that enters the emergency food system. By donating what is needed, people who rely on EFPs are given access to a wide variety of nutritious foods.
Community University Engagement:
Given the success of Community Engaged Scholarship (CES) in a third year computer science course, the goal of this project is to develop a website and database, in collaboration with the Institute for Community Engaged Scholarship, to provide a portal for community organizations to connect with students, staff, and faculty across all disciplines on campus. Working together, community and university partnerships can address real world issues while engaging students, and improving the educational experience.
User Empowerment:
Preserving individuals' integrity in the digital world is expected to be one of the major challenges of our society. To this end, we have developed a framework and a tool to help users make sense of their privacy rights and options in a context that they are interested in. Our tool provides users with the information they need to make better decisions and have greater control of their personal information online.