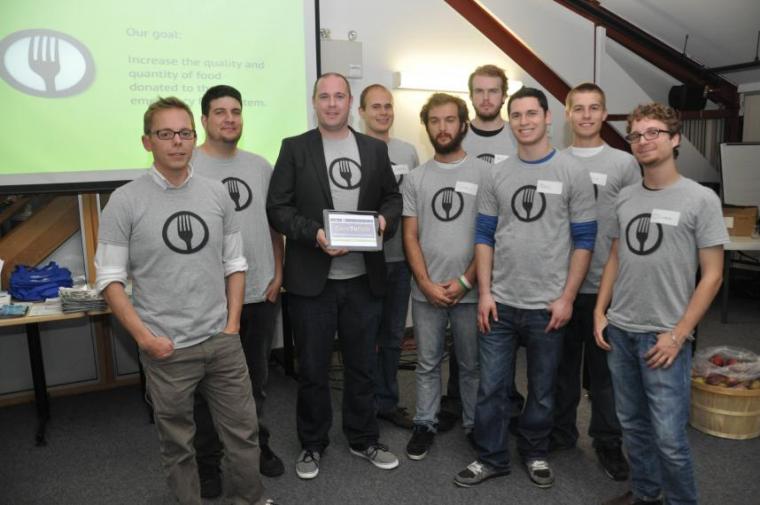 More than a year in development, third and fourth year students from the School of Computer Science officially launched the Farm-To-Fork.ca [1] website on Thursday, October 3rd.
The Farm To Fork website, which started out as a class project, was designed to facilitate conversations between Guelph-Wellington's Emergency Food Providers (EFPs) and those in our community who are able to donate. Briefly, a donor can create an account, link up with a nearby EFP, identify when they typically go grocery shopping, and then receive timely updates of what is most needed. The goal of the program is to increase the quality and quantity of food entering the emergency food system, because every person deserves access to nutritious foods.
To mark the occasion, students, staff, and faculty from the University joined members of the community at Innovation Guelph to celebrate. The launch included several short talks about the realities of food insecurity in our neighbourhood, the importance of computer science for social justice, and how the Farm To Fork project can make a difference.
The night began with a presentation by MPP Liz Sandals, whose history is closely tied with the SoCS. The keynote talk was presented by the University of Guelph's Loblaw Chair in Sustainable Food Production Dr. Ralph Martin [2]. Other presenters included Linda Hawkins of the Institute for Community Engaged Scholarship [3], Randalin Ellery of The Seed Community Food Hub, Marg Hedley of the Guelph Wellbeing Initiative [4], Stacey Dunnigan of TasteReal [5], and Kate Vsetula of the Guelph-Wellington Food Round Table [6]. The event also included a very moving and inspirational presentation by Tina Brophey of Community Voices, describing the first-hand realities of life for those in our community who are food insecure, and how the work of the students will make a huge difference.
If you are interested in learning more about the Farm To Fork project, click here [7]. To become a registered donor, click here [1].