Connect with Us, Visit Us
Campus Tours
Visit our campus, meet with faculty, staff and students and learn more about what Guelph has to offer. You will find a vibrant campus and an inspiring and innovative community. To arrange a visit, please book a tour through Campus Tours. We look forward to welcoming you to our campus and community! If you would like to ask specific questions regarding our programs during your visit, feel free to contact our Recruitment Officer to arrange an individualized visit.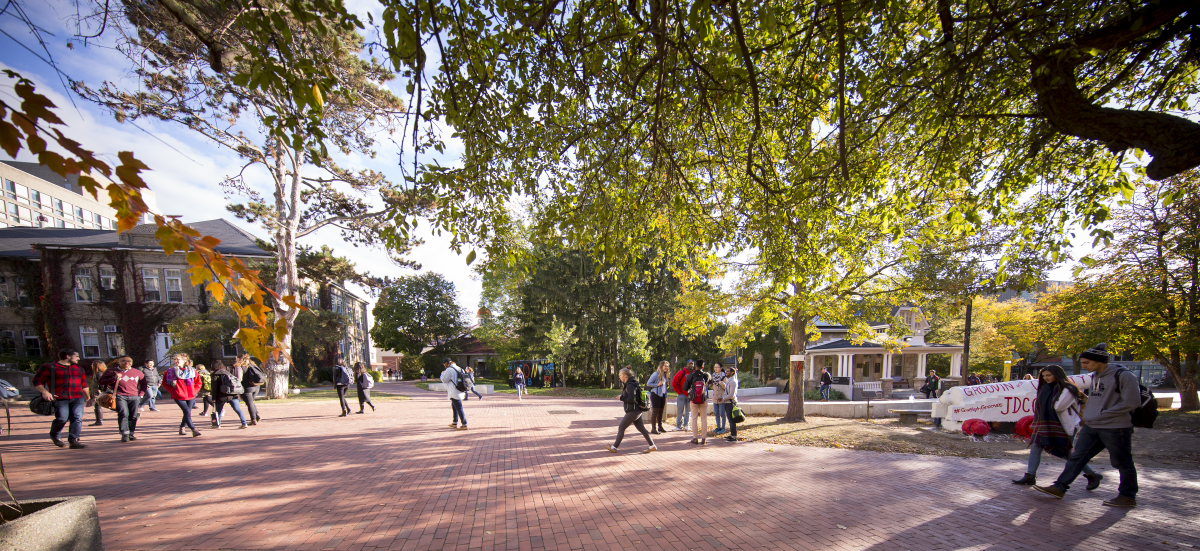 2019-2020 Prospective Student Events
Take advantage of the many opportunities to meet with faculty, staff and students, and discover for yourself the wonderful atmosphere of learning and life that is Guelph. For more information on the events below and to connect with us, please visit Undergraduate Admissions.
Ontario Universities' Fair

September 27-29, 2019

The Ontario Universities' Fair is held in Toronto every Fall. Join the University of Guelph and Ontario's 20 other universities at this free three day event at the Metro Toronto Convention Centre. The Fair gives you an opportunity to speak with representatives about programs, campus life, finances, and anything else that will help you in your decision of choosing a university.

Fall Preview Day

November 3, 2019

Visit our campus, meet with faculty, staff and students and learn more about what Guelph has to offer.  This full day program offers walking tours of campus, academic and student life displays, and information sessions on residence, co-operative education, admission and finance.

Science & Engineering Sunday

November 10, 2019

Visit our campus, meet with students, staff and faculty from different areas of science, computer science and engineering at Guelph. The day includes a resource fair, many open labs and facilities, campus walking tours, and self-guided residence tours.

Campus Day

March 29, 2020

This full day open house is open to you and your family. You are invited to go on a campus tour, check out our residences, attend academic information sessions and chat one on one with current students, staff and faculty who are in the programs to which you've applied.

Interaction Days

April 22 and 23, 2020

A conference for university-bound Grade 10 and 11 Students. Explore the University of Guelph community and learn more about our academic disciplines and student services. From Introduction to DNA Barcoding, to Designing for the Wearable Computing Environment, Weighing the Profits: A Business Case Competition, or Conflict: The Good and the Bad, your choices are varied. Registration is required and includes a fee per student (includes lunch).

Spring Academic Open House

May 19, 2020

The Spring Academic Open Houses is a full day, program-specific events for students who have received an offer of admission to the University of Guelph. Each day is specific to a degree program or grouping of programs and consists of program information sessions, sample lectures, career and co-operative education sessions, and tours of residences, the library, the Athletics Centre and more!