Engineering Alumni Association AGM and Bonspiel
Location
Guelph Curling Club, 816 Woolwich St., Guelph, ON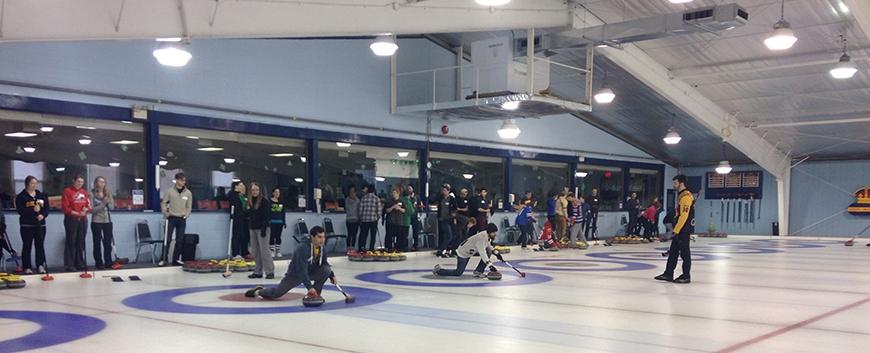 Details
Engineering alumni are invited to join in at this annual event happening at the Guelph Curling Club. Whether you're just learning to curl, are in it to win it, or are just looking to reconnect with your fellow alumni, the EAA Bonspiel has something to offer you! Start the day off hearing about the latest updates and successes from the EAA at the AGM, then get yourself registered and ready to go for curling. There will be a Learn-to-Curl Tutorial available for interested beginners or curlers looking for a refresher. Not interested in curling? Please join us for the post-curling social at 8 pm at The Albion Hotel.
You can register a full curling team of four or be assigned to a team the day of. The schedule for the day is as follows:
10:00 am - Annual General Meeting
10:30 am - Bonspiel Registration Opens
11:15 am - Learn-to-Curl Tutorial (optional)
12:00 pm - Bonspiel
8:00 pm - Awards, Prizes, and Social at The Albion 

The cost is $25 per person curling. Dress in layers, wear loose pants, bring a flat and clean pair of shoes (running shoes are ideal), and a pair of gloves. Note: Lunch will not be provided, you can bring your own or food will be available for purchase on-site. For those who would like to attend the social only, registration is not required.
Curling spots are limited, be sure to register early!
Registration closes at 4 pm, February 27, 2017, or when event is sold out.
Contact
For more information on the event or sponsorship opportunities, please email Melissa Woo Alumni Advancement Manager, CEPS at melwoo@uoguelph.ca or call 519-824-4120 ext. 56769. Make sure you receive all of our event updates by updating your Communication Preferences today.