Location:
Adams Atrium, Thornbrough Building, University of Guelph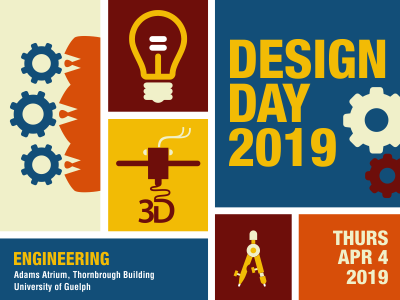 Celebrate the year in engineering design by bringing together second-, third- and fourth-year design classes to showcase their innovative solutions and designs. Students, faculty, staff and industry are invited to observe, participate and celebrate the design process at U of G's School of Engineering.



ENGG*3100 (Engineering and Design III): 8:30am – 10:00am
A select few groups of third year design students present their innovative designs to a panel of judges
ENGG*41X0 (Engineering and Design IV): 10:30am – 2:30pm
Student teams line the hallways of Thornbrough building in a poster and prototype display setting.
ENGG*2100 (Engineering and Design II): 3:00pm – 4:30pm
Second year design students present their miniature toy designs and prototypes to a panel of judges ("Shark Tank" style). This year's toy theme is "Science Fiction". Each toy must fit into a large Kinder Egg container, be assembled, and successfully perform a function or movement.