Process and quality control procedures
Chemical and microbiological analyses of cheese milk, finished cheese and cheese whey are required to maintain efficient operations and to ensure food safety and quality. This chapter describes some analytical procedures relevant to cheese making operations, but it is not intended to be a comprehensive process and quality control manual. The following general comments are intended to orient the reader to the general types of analyses required in cheese operations. Subsequent chapters will identify process and quality control requirements in the context of each step in the cheese making process.
Milk Analysis
Milk composition analyses should include both fat and protein, determined by infrared milk analysers. Note that casein content rather than total protein content is the critical parameter with respect to cheese yield. Cheese makers are, therefore, advised to regularly monitor the relative amounts of casein, whey proteins and non-protein nitrogen in their milk. Monthly or bimonthly analysis of protein distribution by Rowland fractionation is sufficient to monitor seasonal trends. Alternatively, an indication of casein and whey protein distribution can be obtained by comparing protein concentration in cheese whey to the protein concentration in the initial milk. This has the advantage that infra red milk analysers can be calibrated to measure protein in cheese whey. See Chapters 6 and 12 for details on standardization of milk composition and the importance of casein to cheese yield.
Quality measurements of cheese milk should include total counts (and/or psychrophilic counts), tests for inhibitors and somatic cell counts. Depending on the types of controls in place at the producer level, cheese makers may need to monitor bacteria counts, inhibitors, and somatic cell counts of individual producer milks.
Cheese Analysis
Cheese composition analyses should include fat (by Babcock, Mojonnier, or near infra red procedures), moisture, salt and pH. Cheese pH should be measured at the time of manufacture, 3 - 4 days after manufacture and periodically during curing. Other composition parameters should be determined several days after manufacture to permit time for equilibration of soluble components. Salt in particular, requires time to become evenly distributed throughout the cheese and in the case of brine or surface ripened cheese, uniform salt distribution may never be achieved. For Cheddar cheese and other vat salted cheese, representative samples for accurate determination of salt content can be usually be obtained as early as seven days after manufacture.
With respect to process and quality control, the 'pH profile' during manufacture and curing is vital. 'pH profile is a term I use to describe the set of pH values at critical process control points in the cheese making process. Other critical process control parameters are the ratio of salt to moisture (S/M), the moisture in the nonfat substance (MNFS), and the fat in the dry matter (FDM). These ratios are normally reported as percentages and calculated as in Equations 1a, 1b, 1c, below.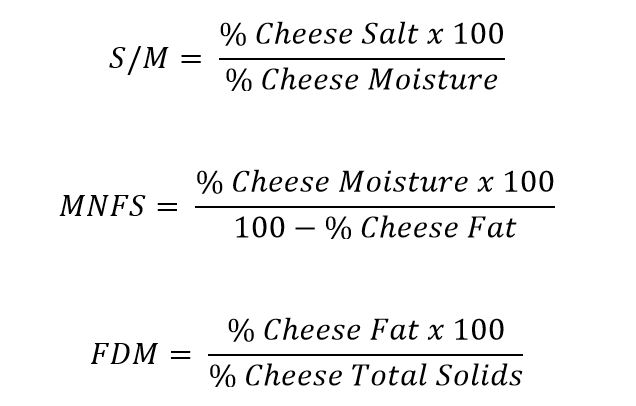 Note that percent total solids is 100 minus percent cheese moisture.
Routine cheese microbial analyses should include yeasts and moulds, total coliforms and staphylococci. For raw milk cheese, all vats must be tested for the presence of Salmonella, Staphylococci, Listeria and enteropathogenic E. coli. Cheese made from heat treated but not pasteurized milk must also be considered higher risk and should be monitored on a regular basis for the presence of common pathogens. Microbial analyses should be performed at the time of manufacture and after curing. Cheese whey should be monitored for the presence of bacteriophage specific for the culture currently in use.
Analytical Quality Control
A simple but vital truism, is that inaccurate analytical results are of less value than no analytical results. The most important causes of poor quality, poor yield efficiency and poor process control are insufficient and inaccurate chemical and microbial analyses. Effective control of quality and plant efficiency requires effective quality control of analytical procedures. Smaller cheese manufacturers generally find it's more economical and reliable to have most analyses performed by an outside laboratory. But, whether the analyses are performed in house or by an outside laboratory, be certain that your laboratory services are accurate and reliable. In Canada, dairy laboratory reliability can be assured by certification with the Canadian Laboratory Accreditation Programme (LAP), Ottawa, (613) 247-1395. The LAP is able to provide ongoing certification for both milk analysis (composition and quality) and cheese composition analysis. I strongly recommend that cheese makers use LAP or a similar certified testing, whether lab services are provided from inside or outside the company.
Some analytical procedures are detailed in subsequent sections. The reader is also referred to:
Standard Methods for the examination of dairy products. American Public Health Association, 1015 Eighteenth St. NW, Washington, D.C.
Official Methods of Analysis of the Association of Official Agricultural Chemists, P.O. Box 540, Benjamin Franklin Station, Washington, D.C.