10th Annual Accessibility Conference
Location
Rozanski Hall, University of Guelph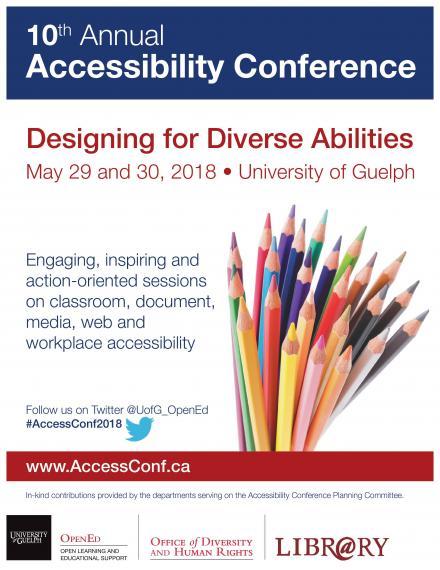 Details

Accessibility Conference News
Welcome to the 10th Annual Accessibility Conference.
Conference and workshop registration is now open.
Sign up to stay in touch. Add your name to the Accessibility Conference Contact list.
Conference Details
We continue the tradition of offering practical and applied sessions on this year's theme "Designing for Diverse Abilities" as well as accessible teaching and learning, document and media, disability research and accommodation, inclusive design, and web accessibility.
View Workshops schedule.
View Conference Schedule (a day at a glance).
View Conference Sessions (detailed session descriptions and speaker bios).
 
Sponsors
Thank you to our 2018 Accessibility Conference sponsors:

Exhibitors
Thank you to our 2018 Accessibility Conference exhibitors:
About the Accessibility Conference
The Annual University of Guelph Accessibility Conference welcomes both accessibility novices and experts, and encourages attendees to build communities and exchange ideas.
Presenters share practical and theoretical knowledge of:
Web, document and multimedia accessibility and other AODA-related topics
Disability research and accommodation
Inclusive design
Adaptive technology
Accessible teaching and learning
Leadership in the field of accessibility
National and international accessibility issues
While the majority of our attendees come from the post-secondary education sector, we seek to ensure that our programming is relevant and valuable to other attendees from the public and private sectors.
We are committed to hosting an inclusive, high-quality and affordable event.
We welcome your feedback. Send us an email if you would like to tell us about your conference experience and/or give us suggestions regarding topics, themes and formats for future sessions.
Event Website
Share this page
Find related events by keyword