Chemical Waste Amnesty 2020
Location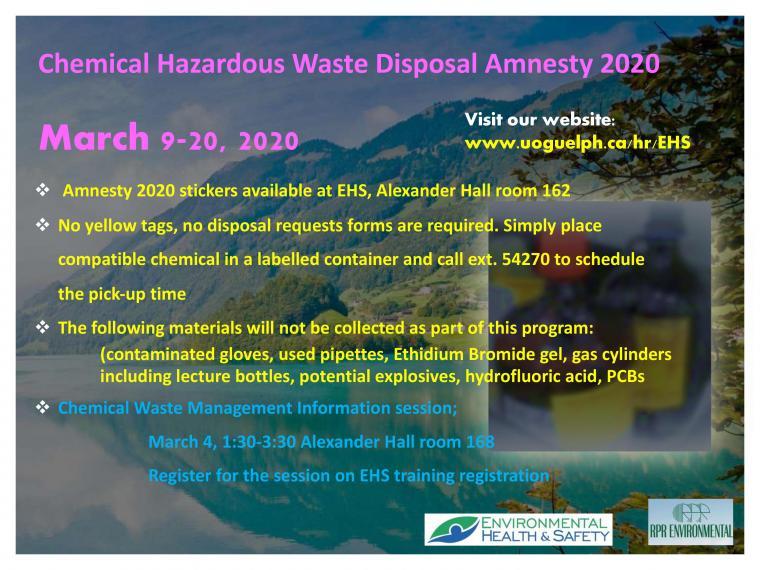 Details
Chemical Waste Amnesty 2020
March 9 – 20, 2020
Take advantage of the annual chemical hazardous waste amnesty program to dispose of any unneeded chemicals in your lab.
What you need to do:
Obtain amnesty 2020 stickers available at EHS, Alexander Hall room 162

Place compatible chemical hazardous waste in a labeled containers and call ext. 54270 to schedule a pick-up time. 

 

No yellow tags or disposal requests forms are required.
The following materials will not be collected as part of this program:
Regularly generated waste (contaminated gloves, used pipettes, Ethidium Bromide gel)

gas cylinders including lecture bottles

potential explosives

hydrofluoric acid.

PCBs
Please call ext. 54270 if you have any of the above listed items for disposal.
A chemical Waste Management Information session will take place on March 4, 2020 at 1:30 PM in Alexander Hall room 168. Please register on EHS training registration system.
This session is intended to raise awareness on proper disposal of chemicals in a safe, efficient and environmentally friendly manner. This information session introduces participants to key elements of Hazardous Waste Management: regulatory requirements, hazardous waste determination, safe handling and storage, as well as treatment of waste after it leaves your lab and more.
Registration for a session can be done through the EHS registration system