National Mental Health Week, North American Occupational Safety & Health Week
Location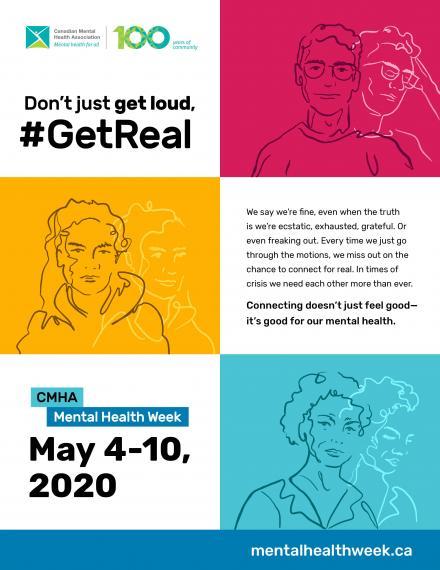 Details
National Mental Health Week helps to shift societal beliefs and perceptions about mental health.  It helps promote behaviours and attitudes that foster well-being, support good mental health and create a culture of understanding and acceptance.
The theme of this year's Mental Health Week is social connection. Connecting with other people and our communities doesn't just feel good. It's good for our mental health.
Dr. Andria Jones-Bitton from OVC has created a series of infographics that focus on the domains of well-being, with tips to help promote your mental health during COVID-19.  Wellness@Work will be sharing these tips on the @UofGHR Twitter account, so please follow for regular updates.
As we kick off Mental Health Week, we encourage you to browse the tips Dr. Andria Jones-Bitton has provided on social connection, including:
Connect with at least one friend daily by phone or video calls
Get together virtually over Facetime, Zoom, Teams, etc.
Use Netflix Party to watch a movie with friends virtually 
Play online games together 
Start an online book club
Given our current circumstances, you may find it hard to connect with others in the same way you did before COVID-19.  Wellness@Work has compiled a few virtual arts and culture related opportunities that you may want to explore to keep yourself entertained and socially connected with others from around the globe.

The Wellness@Work Programming Committee is also challenging you to participate in theWellness@Work BINGO Challenge throughout the month of May.  Complete as many of the activities as you can and submit your BINGO sheet at the end of the month for your chance to win a prize.
There are lots of resources available to support you, whether you are seeking professional mental health support or looking for new virtual activities to boost your mood.  Check out the following websites for more information:
Access to counselling is available to U of G employees 24 hours per day, seven days per week through the University's EFAP provider, Homewood Employee Health toll-free at 1-800-663-1142.
We know that connecting doesn't just feel good, it's good for our mental health. Let's all continue to reach out and stay connected as we navigate through our new reality during Mental Health Week this year.
Event Website