HHNS Marble Madness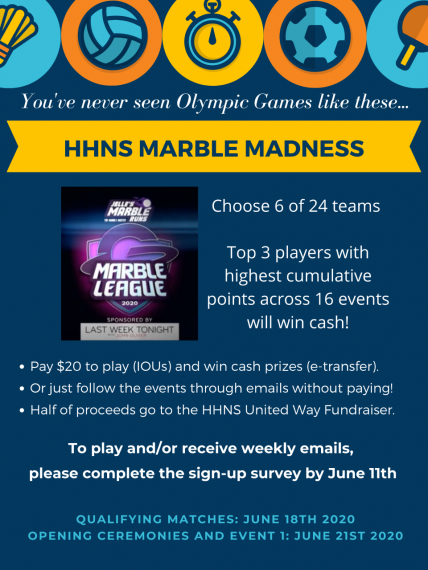 Details
HHNS MARBLE MADNESS!
STAFF, FACULTY & STUDENTS!
Missing team sports and the Summer Olympics? Want to win some cash and give back to our community? ...or need a good laugh?
You've never seen Olympic Games like these...
Choose 6 of 24 teams
Top 3 players with highest cumulative points across 16 events will win cash!
Pay $20 to play (IOUs) and win cash prizes (e-transfer).
Or just follow the events through emails without paying!
Half of proceed go to the HHNS United Way Fundraiser.
To play and / or receive weekly emails, please sign up before June 11th using this link:
You've gotta see it to believe it:
Qualifying matches: June 18th 2020
Opening Ceremonies and Event 1: June 21st 2020