Alumni & Reunion Week
Location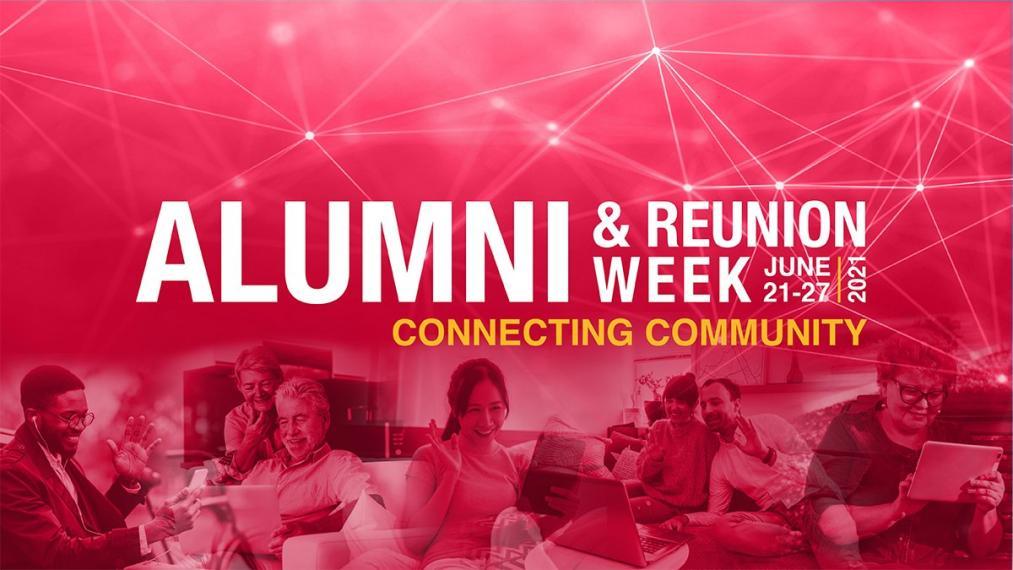 Details
MONDAY JUNE 21, 2021
12 PM - 1 PM
Connecting Community: In conversation with Dr. Roberta Bondar
Community has never been more important. Hear from esteemed alumna Dr. Roberta Bondar (BSc '68) and President Charlotte Yates in our kick-off event as they explore the topics of community and resilience. Registration required. Free.
5 PM - 7 PM
UGAA Annual General Meeting (AGM) 
Interested in getting involved with our alumni Board of Directors? Meet current board members, connect with U of G alumni, and learn about recent alumni initiatives. Registration required. Free.
---
TUESDAY JUNE 22, 2021
12 PM - 1 PM
Sleep: 1/3 of your Life Spent with Your Eyes Closed 
Sleep is essential for all dimensions of human health, yet our modern-day society may dismiss slumber in order to meet life's demands. In this webinar, Justine Tishinsky (BSc '07, PhD '12) will examine why our sleep patterns have changed since the industrial revolution and how we have cultivated a generation of chronically sleep-deprived individuals (zombies??) who have increased risk of metabolic disease and mental illness. Registration required. Free.
7 PM - 8:30 PM
CBS Research Showcase 
In honour of The College of Biological Science's 50th anniversary, join us for an exciting evening of research highlights from within our college. Hear from some of our brightest student researchers as they present bite-sized recaps of their projects. Registration required. Free.
7:30 PM - 9:30 PM
Alumni Trivia Night 
Back by popular demand – friendly competition with fellow alumni! With host Trivia Guy Gaby Tabak, you'll enjoy fun trivia and awesome prizes for the winning teams.  Please form your team prior to the event (can be 2-6 people). Team up safely with individuals from your household or use platforms such as WhatsApp, Facebook Messager, Text, etc. Individual registration required. Free.
---
WEDNESDAY JUNE 23, 2021
10 AM - 11 AM
Covid Cohorts: the student experience during a pandemic 
We've all been students before, but never during a pandemic. Join three current U of G students as they share what the past year has been like for them and answer your questions. Registration required. Free.
7:30 PM - 8:30 PM
Alumni Wine Tasting 
Join us for a virtual tasting experience, in partnership with 13th Street Winery. In this hour-long event you'll enjoy wine tasting, food demos, pairing suggestions, and more. Registrants will receive a curated kit including: three bottles of 13th Street Winery Burger Blend wine (white, rosé, red), two wine jellies, a burger spice blend, pairing suggestions, and recipes. Each individual registration for this event will be associated with a wine kit purchase. If registering for a household, simply select one primary registrant. Wine kits can be mailed in Canada only. Order deadline is May 23, 2021. Registration required. $80 per kit.
---
THURSDAY JUNE 24, 2021 
#UofGGOLD Day
12 PM - 1 PM
Personal Brand Webinar - Giving Yourself a Competitive Advantage 
Join this webinar and learn how to deliver a clear and consistent message to employers about your career plans. We'll cover all aspects of career branding, including written documents, website/LinkedIn, social media channels, elevator pitches, and interview stories. Our goal is to help you become the most impressive candidate.  This webinar is in partner with Jana McDonald from the Experiential Learning Hub.Registration required. Free.
3 PM - 4:30 PM
School of Computer Science 50th Anniversary & Alumni Awards Celebration 
Celebrate The School of Computer Science's 50th anniversary with an event honouring our rich history and achievements. The event will include a special celebration of our 2021 SoCS Alumni Award Winners, featuring 2021 'Medal of Achievement' winner and keynote speaker, Tim Bray (BSc '81).  Registration required. Free.
5:30 PM - 6:30 PM
Craft Beer Happy Hour with Royal City Brewing
Take part in a guided Beer Tasting with Dan Schmidt from Royal City Brewing, a small batch brewing company in Guelph. Dan is one of only a few Master Beer Sommeliers in Canada! He puts his certification to great use at Royal City, educating staff and hosting brewery tours for the public. Each registration will receive a delivery of six Royal City beverages, including the Experimental Farm Ale (a collaboration with U of G and Escarpment Labs), alumni branded coasters, and a guided beer tasting over Zoom. Due to LCBO shipping restrictions, craft beer delivery is only open to Ontario residents. Order deadline is June 7, 2021. Specific questions about participating outside of Ontario can be directed to reunions@uoguelph.ca. Registration required. $25.
7:30 PM - 9 PM
CBS Trivia Night 
Join CBS alumni and friends for an evening of fun and friendly competition! Participate as a household, or as a team with fellow classmates, and test your knowledge of all things science, CBS and general knowledge!  Registration required. Free.
7:30 PM - 8:30 PM
OAC Young Alumni: 150th Focus Group 
Calling recent OAC grads! The OAC Dean's office is seeking your advice and input as we plan for our OAC 150th celebration in 2024. Registration required. Free.
---
FRIDAY JUNE 25, 2021
3 PM - 6 PM
Physics 125th (+1) Celebration
We are celebrating 125 years (+1) of the Department of Physics at the University of Guelph.  We will feature invited speakers, showcase our history, recognize some of our incredible achievements, and provide an opportunity to socialize with alumni, faculty and students. Registration required. Free.
5 PM - 6 PM
Three Cheers: A Celebration of Alumni Excellence 
Let's end the week by raising a glass to celebrate excellence. Hosted by actor and improvisor Nigel Downer (BA '01), we'll honour three distinguished U of G alumni: Yvonne Su, BA '11 (Young Alumni Award), Bill Laidlaw, BA '74 (Alumni Volunteer Award) and Mark Lautens, B.Sc.'81, H.D.Sc. '16 (Alumni of Honour). Registration required. Free.
7:30 PM - 9 PM
OAC Alumni Association: Cheers to 100 Years 
Join us from the comfort of your home, patio, or your cab.Enjoy an evening of fun and socializing with fellow Alumni for greetings from the OAC Dean and OAC Alumni Association followed by a friendly game of virtual trivia.  Registration required. Free.
---
SATURDAY JUNE 26, 2021
10 AM - 12 PM
OVCAA Annual General Meeting (AGM) 
OVC alumni are invited to attend the 2021 OVC Alumni Association Annual General Meeting. You will hear current updates from the College, connect with classmates, learn more about alumni initiatives, and celebrate this year's OVCAA Award winners!  Registration required. Free.
Event Website