Tickets available for HR's United Way Basket Raffle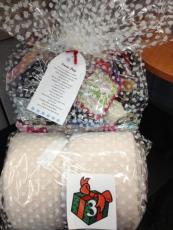 Snow Day BasketTickets for HR's Annual Basket Raffle for the United Way are on sale now.  Baskets are on display until November 30, 2012 in Human Resources (5th floor, University Centre South).  The draw for the lucky winners will take place on November 30 at 3 p.m.
This year's fabulous baskets include: 
Mad Men - Everything you need to make an Old Fashioned and enjoy the show!
Hole-in-One - Golf, chocolate, Prosecco
Snow Day - Wrap yourself in a luxury blanket, everything else you need to enjoy a snow day is in the basket
Wii Like to Have Fun! - Wii system, Super Mario game, gift cards for fun activities and games
Wrap it Up! - Everything you need to complete your gift wrapping this year…and a bottle of wine to enjoy when you're done!
A Shoe-In for Christmas - His and Her Christmas stockings filled to the brim, and gift cards, etc. for your candlelight dinner for two.
Tickets are $2 each, 3 for $5 or 8 for $10 and can be purchased at the HR Reception Desk. Come view the baskets in HR and consider supporting the United Way!