Matt Cornish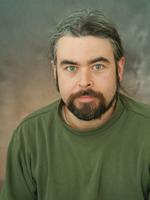 My career in biological research started during my undergraduate degree (Guelph, '94) where I had the great opportunity to work in an aquatic lab within the Department of Zoology (now Integrative Biology). Along with further developing my lab skills, was able to participate in aquatic fieldwork throughout northern Ontario, Churchill Manitoba and areas surrounding Tuktoyuktuk, NWT.
Upon graduating from Guelph, I began working at the Wildlife Research Station in Algonquin Park as the Assistant Manager. Being part of the management team allowed me to understand and begin to develop the logistical skills required to support biological research. I worked at the WRS for 3 summers before I began my Master's degree at Brock University in the fall of '96.
In 1998 I became the Manager of the Wildlife Research Station and moved to Algonquin Park for the next 6 years. During these formative years, I was able to further refine the skills required to support biological research and University field courses, in addition to the skills required to run the daily operations of a year-round field station.
In 2004 I returned to the University of Guelph to assume the responsibilities of Assistant Manager of the Hagen Aqualab and in 2012 became the Aqualab Coordinator.
B.Sc.(H) University of Guelph, 1994
M.Sc. Brock University, 2001