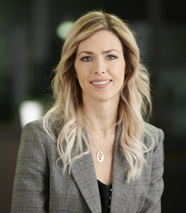 Dean, Gordon S. Lang School of Business and Economics
Previous to joining the University of Guelph and the Gordon S. Lang School of Business and Economics, dean Porth held the Guy Carpenter Research Chair in Agricultural Risk Management and Insurance and served as the Director of the Warren Centre for Actuarial Studies and Research. She is currently adjunct Professor in the Department of Statistics and Actuarial Science, University of Waterloo.
Dean Porth's research covers a wide breadth of topics regarding product design and pricing, as well as risk modelling and business analytics pertaining to crop insurance, price insurance, revenue insurance, livestock insurance, weather insurance, and weather derivatives. Her research also focuses on new and innovative approaches to insurance, such as remote sensing. Her research "bridges the gap" and strengthens public-private partnerships to encourage more cooperation and dialogue among producer organizations, insurers and reinsurers, and provincial and federal governments. Much of her research has primarily focused on developing innovative risk management products to achieve more stable incomes for agricultural producers, as well as more efficient risk management solutions for agricultural producers in Canada, and the World. She is currently cross-appointed to the Lang School's Department of Economics and Finance.
Dr. Porth is involved in numerous research projects with the public and private sector. She has collaborated with all levels of government in Canada, including provincial crop insurance organizations, as well as provincial ministries and the federal government. She has also served as an academic advisor to the Federal, Provincial and Territorial (FPT) Minister's Risk Management panel for policy-related discussions. Further, Dr. Porth is involved in a number of international research projects, focused on the US, Poland, Ukraine and China. She frequently collaborates with researchers at other universities, such as the University of Manitoba, University of Waterloo and University of Victoria, as well as researchers at other international universities, such as the Chinese Academy of Agriculture Sciences, and Nankai University.
Since 2014, Dr. Porth has served as a member of the Editorial Board for the Agriculture Finance Review Journal (Emerald Publishing). In addition, she is the co-Chair of the annual International Agricultural Risk, Finance and Insurance Conference (www.iarfic.org), and member of the Waterloo Research Institute in Insurance, Securities and Quantitative Finance (WatRISQ). Dr. Porth received the 2016 Casualty Actuarial Society Award for the most valuable paper published in 2015 by ARIA (either in the Journal of Risk and Insurance or Risk Management and Insurance Review) for the paper "Insurance Premium Calculation Using Credibility Analysis: An Example from Livestock Mortality Insurance" JRI, Volume 82, Issue 2, pages 341-357, June 2015, along with her co-authors Dr. Jeffrey Pai and Dr. Milton Boyd.