Marketing student named Co-op Student of the Year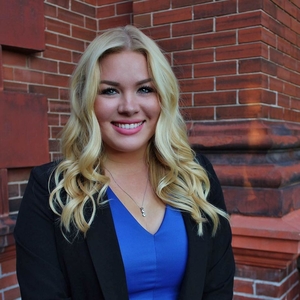 Marketing Management student Danielle Tyl (B.Comm) has been named the University of Guelph's Co-operative Education and Career Services "Co-op Student of the Year" for the Commerce and Social and Applied Human Sciences category in 2017.

This annual award recognizes students for their academic achievement, work place performance and involvement within the community. Tyl is currently in her third year of studies in the Marketing Management Co-op program. She was nominated by Amy Flood, Brand Director of Rogers Communications Inc. "Danielle has very quickly shown us that she is at the top of the co-op class and demonstrates professionalism beyond her years," said Flood.

In her role as an Associate Community Specialist, Tyl was the designated Social Media lead, managing all of Rogers' social channels.  She led several customer service initiatives and assisted with the promotion of store openings on social channels which led to a 21% increase in store traffic. Her understanding of Rogers' customers allowed her to create a social media strategy across the sports, wireless and cable lines of business in 2018. Tyl's integrated social media and website content strategy is expected to save $1.5M for the brand this year. 

Tyl is also very involved within the University of Guelph community and currently serves as the Director of Marketing for the College of Business and Economics Student's Association.

Each year, Co-operative Education & Career Services recognizes the success of co-op students and employers with six different awards. These awards will be presented at the Co-op Awards reception to be held on Thursday March 8th, 2018 at Cutten Fields. 
 
Share this page
News Topics