Business + Varsity Athletics
The Gordon S. Lang School of Business and Economics at the University of Guelph provides exceptional support for aspiring student varsity athletes. Combining a commerce degree with your athletics program can be a powerful combination for your career, and can open plenty of doors after graduation.
BComm varsity athletes are typically:
---
Achievement-oriented: Most Gryphon athletes have been competing in sports from an early age. They have been winning and losing their entire life and have learned to eliminate outside distractions to be at their peak performance, both on the field and on the job.
Resilient: Most student-athletes have failed more often than they have won. Being resilient is a key component to academic, athletic and career success. They find ways to win!
Strong communicators: Whether receiving feedback from a coach or manager, or communicating strategy to a fellow teammate or employee, student-athletes are comfortable receiving and providing feedback in the workforce.
Team oriented: The ability to work with others is a key learning component to the Bachelor of Commerce program, and is equally important in any varsity sport.
Organized: Student-athletes have a lot of responsibilities, including classes, studying, conditioning, practice, travel and games. Being efficient with your time will allow you to hone your organizational skills to become a more effective business leader.
Available support for student athletes
---
Below are just some of our student varsity athletes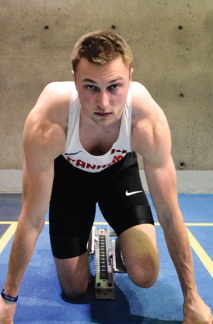 Elite athlete and MA Management student Gregory MacNeill researches coach-captain relationships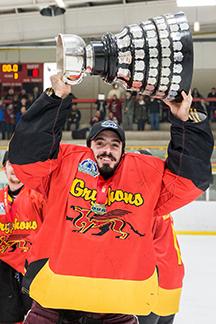 Male Rookie of the Year Andrew D'Agostini thrives as a champion both on the ice and in the community