Business Career Development Centre for Students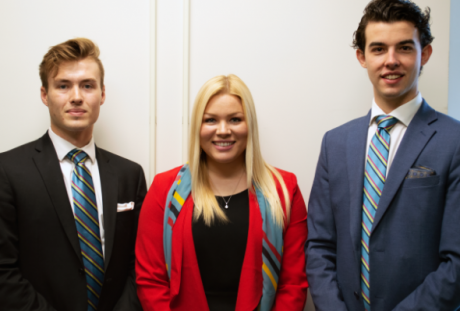 Career Resources and Support
The Business Career Development Centre offers resources to help launch your career, including:
CourseLink Resource Site
Attending workshops, creating a powerful resume, writing an engaging cover letter and preparing for an interview will all help put you on the road to success.
Visit The Business Career Development Centre Resource Portal on CourseLink for access to career resources to help you reach your career potential!
You will find the following resources on CourseLink:
Resume and cover letter resources

. Templates and checklists will help you create a winning job application.

Links to job search tools

. Find the websites that post the jobs that best fit your major and skill set.

Career exploration resources

. Access resources to help you determine your career identity, and determine how to best market your strengths to employers.

Highlighted job opportunities

. Search through job postings that are relevant to you. All postings link to the Experience Guelph website.

Interview tips

. Your application got you in the door, now learn how to conduct yourself in your job interview and practice with av virtual mock interview.

LinkedIn profile tips

. More than 90% of employers look at LinkedIn profiles. Learn how to make yours stand out.

Upcoming events

. Gain new career insights and skills through the events hosted by the Business Career Development Centre. They are tailored to business students.

Gaining experience.

Information on Co-operative Education, experiential learning opportunities and unique ways to compliment your degree and gain work experience before you graduate.

Further education planning. Explore common education pathways for Commerce graduates including graduate school, accelerated MBAs, law school, and teacher education options.
1:1 Career Advising and Job Search Support
Looking for career support or just getting started with your job search?
Book a 1:1 appointment with one of our career advisors by logging into ExperienceGuelph. Use the left side panel under 'Career > Business Career Centre > LangCareers Appointments' and select the type of appointment you would like to book. You will then be able to view and select dates/times available. For more detailed information on how to book appointments, please view the instructions online.
Funding Opportunities for Student Competitions
Participating in a competition, conference, or experiential learning opportunity is a fun and challenging way to apply your skills, network and build your resume. It will also give you great examples to draw from during job interviews. Learn more about upcoming opportunities and apply for financial support.
Choose from a list of selected competitions to qualify for Lang branded competition gear.
Mentoring and Networking Opportunities
Mentoring is a valuable opportunity in helping to provide insight on various career paths and getting advice from alumni and business professionals over coffee, phone or online. Join the Lang School of Business & Economics Cafe and/or the Lang Student-To-Student Connect online network hubs through the Ten Thousand Coffees platform and supported by RBC Future Launch, and connect to like-minded people looking to help one another and make new connections. Whether you need career advice, hope to connect & collaborate with peers, or have expertise to share, this is a great opportunity to build your knowledge network over virtual coffee.
Highered EFMD Global Talent Portal
Interested in working abroad? If you are a current student or new graduate with an official University of Guelph email address, check out the European Foundation for Management Development's (EFMD) Global Talent Portal. This online service provides access to business-specific international opportunities from organizations that are accredited by EFMD.

---
Student success stories