Bottling Up Success - Trevor and Chris Williams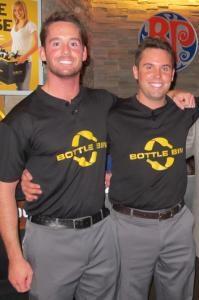 At first glance, the Bottle Bin looks like any other recycling bin, but it's not a blue box; it's a black box designed for collecting empty beer, wine and liquor bottles. Fill it with ice, and it also doubles as a cooler. If you've ever struggled with carrying a cardboard box full of empties to the liquor store, only to have the box fall apart in the parking lot, you're not alone. Trevor Williams, B.Comm. '09, and his brother, Chris, conducted their "market research" for the Bottle Bin in Beer Store parking lots.
"We would actually watch people bring back their bottles," says Trevor. "The bags were breaking, boxes were breaking, bottles were falling." Putting glass bottles in recycling bins doesn't help the environment, he adds, because 40 per cent of those bottles actually end up in landfills. If the bottles break, they can't be sorted by colour and must be discarded, whereas 100 per cent of bottles returned to Beer Stores are recycled or reused.
The Bottle Bin is the brainchild of Trevor's father, Andy, who spent 25 years working at an injection mold company that made recycling and composting bins. When the company was sold, he started his own business called Sustain It in 2009. Trevor graduated from U of G that year and joined the company as director of marketing, a good fit for his degree in marketing management. His brother also came on board.
The Bottle Bin was born when Andy hosted a large dinner party one night and was left with a number of empty liquor bottles. After several prototypes, the Bottle Bin reached store shelves in 2011. But that wasn't enough for the Williams family.
Joined by their sister Kathleen, Trevor and Chris auditioned for Dragon's Denin February 2011. The show's producers called them back the next day, asking them to return in May for taping. Of the 4,000 contestants who auditioned, approximately 300 were selected for taping and about 130 appeared on television.
When the Bottle Bin episode aired in October, more than 2.3 million viewers tuned in, making it one of the most highly viewed episodes of the season. A bidding war ensued among the judges, and the Williams family accepted Jim Treliving's offer of $150,000 for a 20-per-cent share in the company. They have since signed deals with Home Hardware and Canadian Tire.
For more information about the Bottle Bin, visit www.bringyourbottlesback.com.
Share this page
Find related news by keyword
News Topics